What is a Mini Excavator?
A mini excavator is called a compact machine. These machines are working for digging and demolishing purposes. Mini Excavators have a small body so they can move in small and crowded places. Mini excavators are manufactured of two main parts, a cab or canopy and a track (steel or rubber). The cab is being used for sitting and operating the machine. Mini Excavators have 360 degrees of rotation ability. Although mini excavators are small but have a lot of power and working ability in crowded or small places.
Mobility: Mini excavators can move in small areas as compared to large equipment. Mini Excavators have less weight due to they have less ground pressure. Mini Excavators have no swing tail due to their compact swing, so they work for confined areas.
Power: Although mini excavators have small sizes, they have powerful working. A Mini Excavator of 4,000 to 6,000 pounds can easily manage the deep digging upto10 feet. The performance of Mini excavators is similar to the full-sized equipment
Multi-functional: Mini Excavators have a small body with high power, and a multi-range of attachments, like augers, buckets, compactor plates, and rippers. Mini Excavator has simple Cab-mounted controls that make the easy connection with the other accessories.
Lifting ability: Mini Excavator has 430 to 10,000 pounds a lift-over capacity, and its left-side capacity is between 210 to 6,700 pounds. The moving capacity of Kubota U17-3a is 40 cubic yards in one hour. A Bobcat mini excavator dumping height is between 12.7-13.6 feet and has a maximum lift capacity of up to 6,034 lbs.
How Much Cost to Buy a New Mini Excavator?
Mini excavators have highly versatile qualities because they can work more efficiently and skillfully in small spaces. Mini excavators are also known as compact excavators that are used in construction and other industrial fields.
It's not easy to describe the exact price of new mini excavators because many factors are determined its cost such as the brand, size, and power of the Mini Excavator.
So here is a general prices outlook that gives you an estimate of the cost of a new mini excavator. There are different prices of Excavators in the market due to their specialties.
The average cost of a new mini excavator with 5′-7′ dig depth and 10 -20 horsepower is around $25,000.
The cost of a new mini excavator with 10′ dig depth and 20 -30 horsepower is between $30,000- $40,000.
The price of a new mini excavator with 12′ or more digging depth and 40-plus horsepower is around about $60,000.
The prices of attachments are different; the cost of Buckets is $200-400.The cost of Powered attachments is between $1,000 and $5,000.
The actual price of Mini Excavators depends upon their brand, size, and power. Without custom features, the cost of the smallest Mini excavator model CAT 301.6C with 18 horsepower and weighing 3,549 pounds is between$33,000- $37,000.
This model has a canopy over the operator compartment instead of a full cab. The price of a mid-size CAT 303.5D Mini Excavator model with 30 horsepower is $48,000.
If you want to purchase a used model, then the price is about $15,000.These cheap excavators have not come with all of the features so they are entry-level models.
There rental cost of a Mini Excavator is based on its overall condition and attachment inclusion. Its maximum rental cost is between $20 and $50 per hour.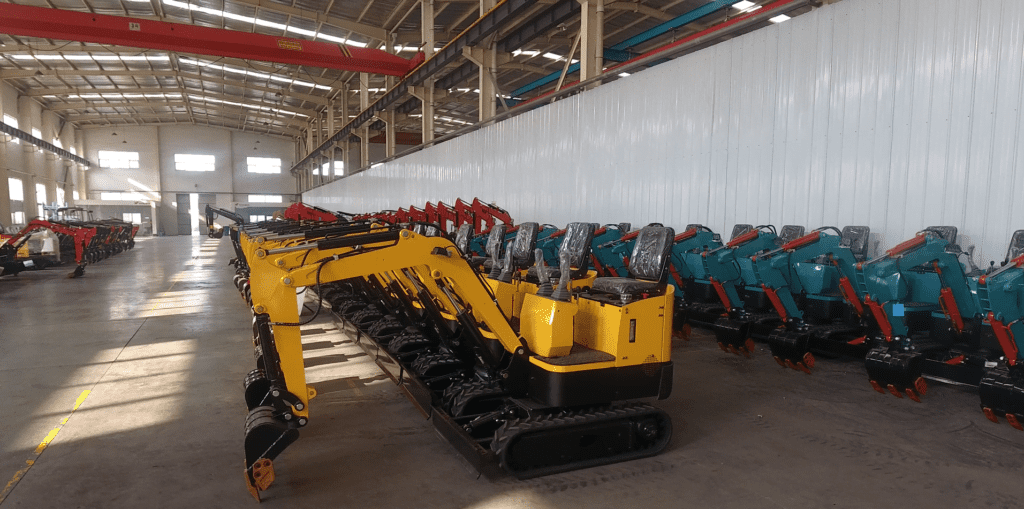 Why don't you consider to buy one from China?
China manufactures and exports a variety of mini excavators ranging from 1,800-pound (11 horsepower) to 18,000-pound machines (54 horsepower). China manufacturers are producing and manufacturing the best Mini, micro excavators and exporting wheel excavators, crawler excavators, grabber excavators, mini farming excavators, steel scrap grapple loaders, digger machines. The China excavators have played an important role in construction machinery areas.
It has the best position in the whole world due to its best professional standards and cheap charming cost. All products have international quality standards with cheap prices, so these products have high appreciation in International markets. Best engineering vehicle manufacturers of China offer the best affordable prices, high Quality, worry-free service, etc. China's industry has advanced technology and a professional quality management system. It is manufacturing and exporting excellent service to win trust and reward in home and also outside.
You can click here to know more about the mini excavators from HIOSEN.
Top Mini Excavator Brands
Mini excavators in China are produced by different top industries like Hitachi, Bobcat, Caterpillar, Kubota, Deere, and Yanmar. Being a buyer, we are trying to figure out the best mini excavators at an affordable price. In that situation, we have the option to get the cheapest mini excavator models by Hitachi, Bobcat, Caterpillar, Kubota, Deere, and Yanmar.
Important facts affect the affordability of Mini Excavators.
The cost of mini-excavators varies from one to another due to some important facts that influence their market value. Here is a short look at the salient factors that affect the prices of new mini excavators.
Size of Mini Excavator
The prices of these compact mini excavators are based on their size and power rating. The actual rates of new mini excavators are between $25,000- $40,000 with the different digging abilities and horsepower. The rates of used mini excavators are below $30,000 with up to 6′ deep digging capacity.
Excavator Features
The prices of new or used mini excavators also depend upon the features. Commonly used mini excavators have only standard features so the buyers have to pay extra money for purchasing the special attachments. Mini excavators are typically equipped with different attachments like augers, buckets, compactor plates, and rippers for demolition or digging. Here is an overview of these attachments with pricing tags.
Grading Blade: Its price lies between$3,400 – $14,100 .it is used for smoothing, sloping, grading, and contouring the surface from any workplace.
Trencher: Their prices exist between$4,700 – $9,000. It has a digging capacity range from 2 to3 feet deep and 4 to 12 inches wide.
Auger: Its price is about $300 and $3,000. It is used for digging holes of 6 to 48 inches with plumb-line on all kinds of surfaces.
Clamp: It is also called the hydraulic thumbed the price is around $750 and $900.It can be used to safely haul loose objects, branches, refuse, and similar debris.
Important Cautions to buy a New Mini Excavator
Some main factors are affecting the purchasing of Mini Excavators. Being a user, we have to decide how and where usage of equipment before buying and renting mini excavators.
Being a buyer, we choose that model that is operated and controlled easily and make sure the transportable by mini truck or pickup. The foremost important thing before buying is to take it for a test drive. Practically get a chance at how it works and operates check the Slew Ring for damaging protection.
Check all connections of the Bucket, Boom, and stick.
Deeply examine the Curve and Cracks.
Leaking fuel is the major fault so it deeply observes all types of leakage.
The meter must be checked due to it checked the capacity and capability of the machine.
The bucket teeth have to be keenly checked to examine the scalloping capacity
China Leading Manufacturer of Mini Excavators
Taian Hiosen Machinery Co., Ltd has become China's leading excavator manufacturer. It has become the leader and pioneer of construction technology. The mini excavators series has ranged from HX08 to HX35 model, satisfying the EPA Tier4 and Euro5 emission standards.
Our vision has to become a well-known enterprise, having well-equipped manpower, and world-class machinery items that have never faltered. Our company is giving respect to our shareholders, employees and valuable customers by providing them valuable products.
Our business is focused on manufacturing and producing world-class heavy equipment like all types of excavators. We are trying our best to explore new ways for fulfilling the demand of the market. Hiosen is a future-focused company. It was established for the future-focusing production of new looks based on intelligent manufacturing, and Sustainability development.
We are striving to become the world-class manufacturers of heavy equipment and also exact pricing sources on both platforms (online &offline). We have provided carefully well-researched cost estimates for the users. Many big names and brands are attached with us so we can offer a multi-range of heavy equipment.