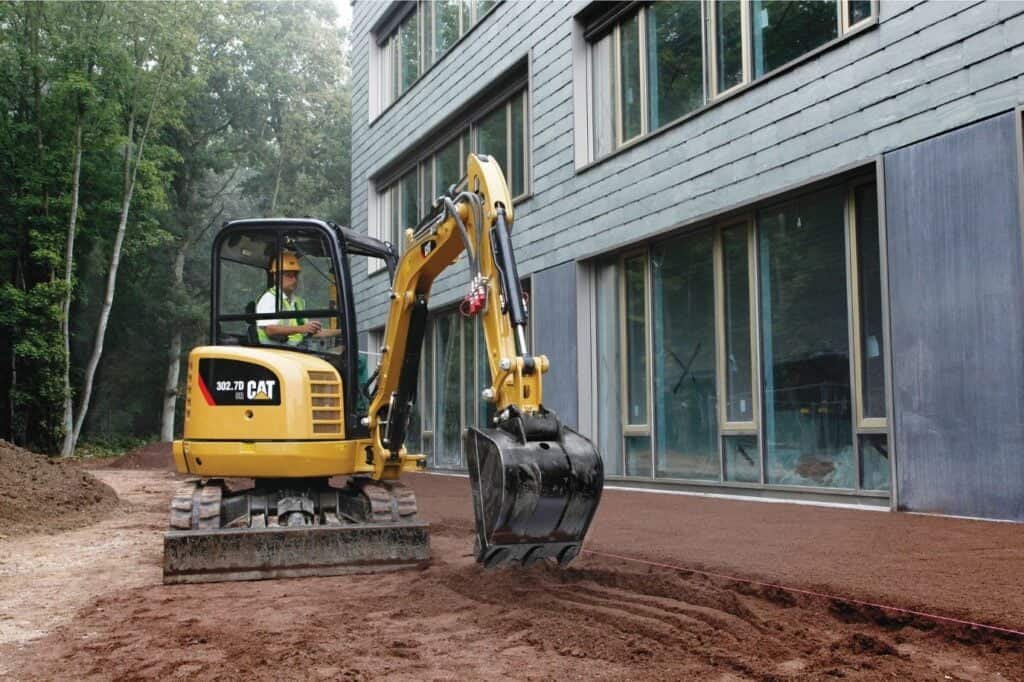 For many site workers and construction personnel, choosing the right equipment for their job constitutes a huge part of a project's success. While it is clear that many construction projects usually require heavy machinery and equipment to complete successfully, not every project requires a full-scale excavator. For many site workers, a mini excavator might be all you need for your type of work. This article is carefully curated to help you understand some of the things you need to know about mini excavators and how to choose the right mini excavator for your work.
What is a Mini Excavator?
To put it simply, a mini excavator has capabilities that are similar to those of an excavator, except for one thing… Well, they are mini! The advantage of mini excavators over normal-sized excavators is that they can work in small and tight spaces. Plus, mini excavators are significantly cheaper than their dinosaur-sized relatives.
Perhaps, you know a mini excavator by other names such as small excavator, mini ex, mini hoe, mini digger, compact excavator, mini trencher, and more. Regardless of what you call your mini excavator, one thing remains true for every type of mini excavator – they are incredibly useful for precise digging, earth displacement, drilling, and more.
For an excavator to be categorized as a mini excavator it has to weigh less than 10,000 pounds or five tons. Some would argue that an excavator that weighs less than 7 metric tons can be classified as a mini excavator.
What You Need to Know About Mini Excavators
According to Dozr.com, a mini excavator consists of a boom, a dipper or stick, and a bucket that connects to a cab that sits on a rotating house. The houses or operating cabs on most mini excavators can rotate to a full 360 degrees. Mini excavators are not limited by their wheel type as they can be fitted with tracks or wheels depending on the manufacturer and model.
Types of Mini Excavators based on size
Mini excavators have operating weights that are below 4,535 kg or 9,999 lbs. Some of the smallest excavators can fit through passages and doorways, and some are slightly bigger and better suited for medium-duty tasks.
The bucket sizes of mini excavators range from 12 to 24 inches and can be substituted for another attachment to better suit the task at hand. It is important to note that lots of companies categorize their mini excavators as compact excavators. While mini excavators top out at 9,999 lbs, compact excavators usually have a cut-off weight of about 18,000 lbs, double the operating weight of a standard mini excavator. However, it is common for companies to categorize both mini and compact excavators as the same.
Common Uses of Mini Excavators
Mini excavators, as the name suggests, are not suited for heavy-duty jobs. By opting for a mini excavator, then you probably need it for light demolition, material handling, stump removal, landscaping, and small construction projects.
While mini excavators can still be found on the sites of large projects, their use is limited to specific portions of these projects. Jobs that require precision and perhaps speed.
Some of the use cases of a mini excavator include:
The demolition of small buildings and sheds
Gravedigging
Pools and tubs installation
Home Renovation
Garden Work
Roadside repairs
General digging
Landscaping
And many more
Choosing the Right Mini Excavator for Your Work
Choosing the right mini excavator for your project isn't such a difficult task. In fact, a bulk of the problem is solved when you know exactly what you need and how much you are willing to spend.
According to Heavy Equipment Guide, mini excavators under 6 tons deliver great performance in tight spaces and on urban job sites. For any contractor that needs to get work done in hard-to-get-to spaces; a mini excavator can alleviate most of the difficulties of working in these spaces.
There are a few important factors that should be considered when choosing a mini excavator for your work. They are:
Evaluate your job to determine the appropriate size
Evaluate the dig depth and lift capacity of your job site
Determine if you need conventional, limited, or zero-tail swing options
Should you rent a mini excavator or buy one?
Evaluate your job to determine the appropriate size
The first thing to determine when choosing the right mini excavator for your project is to evaluate the size of the job or jobs which it is going to perform. You need to select an excavator with the appropriate size and necessary features. Plus, you should consider the ease of transportation during work hours and commute.
It is a good idea the determine the amount of material that needs to be moved by the mini excavator and how fast it needs to be moved so that you can properly choose the one with the appropriate operating load capacity. This way, you can easily use the job information to pick the compact excavator with the right capability.
When choosing the right attachments and hydraulic capacity for your mini excavator, it is important to consider the application of that compact excavator. For instance, when choosing the best diesel engine to satisfy your construction needs, you need to determine if your need the highest-performing excavator, a fuel-efficient excavator, or a combination of both.
Evaluate the dig depth and lift capacity of your job site
Do not simply choose your next digging machine based on your present needs. You should consider whether your business might expand into larger more complex jobs in the future. If this is the case, it is advisable to purchase a compact excavator that is capable of digging or lifting about 25% more than what your current project needs. This will allow your business to expand without the need for new equipment.
Determine if you need conventional, limited, or zero-tail swing options
While size and operation weight are important factors in choosing a mini excavator. The importance of the type of tail swing that your mini digger possesses cannot be overstated. Tail swing is one factor that provides mini excavators with the advantage that they have on urban job sites, and sites with limited space or movement areas such as spaces with low ceiling profiles, and tight corners.
You have the option to choose between conventional, limited, or zero-tail swing mini excavators. A zero or mini-tail-swing excavator of any size will be wider than a conventional mini excavator. For instance, the width of a conventional tail swing on a 3-4 metric ton excavator is about 60 inches. A zero- or minimal-tail-swing mini excavator with a similar performance margin will be about 70 inches wide.
Should you rent a mini excavator or buy one?
For many Contractors, choosing between purchasing a mini excavator or renting one is a crucial one to their business as it affects how extensively the machine can be used and the overall cost of operation. The needs of your business should influence your decision to buy or rent a mini excavator. If you only occasionally use a mini excavator for occasional liftings and digging, and it isn't a critical part of your project, then renting one might be a better fit for your business.
However, if your business relies heavily on the use of light to medium-sized machinery like a mini excavator, then purchasing one might save you a lot of operating costs in the future.
If you decide to buy a mini excavator for your business, there are several high-profile names in the excavator manufacturing industry to choose from, including Caterpillar, Komatsu, and XCMG. While these companies are staples in the purchase list of big construction companies for large and standard-size excavators, their mini excavators may be too expensive for you or your company. Luckily for you, Hiosen is one of China's leading hydraulic excavator manufacturers, with over 10 years of manufacturing experience in china. Hiosen has a wide range of mini excavators for sales and chances are you will find the exact one your need in their catalog.
Mini Excavator Selection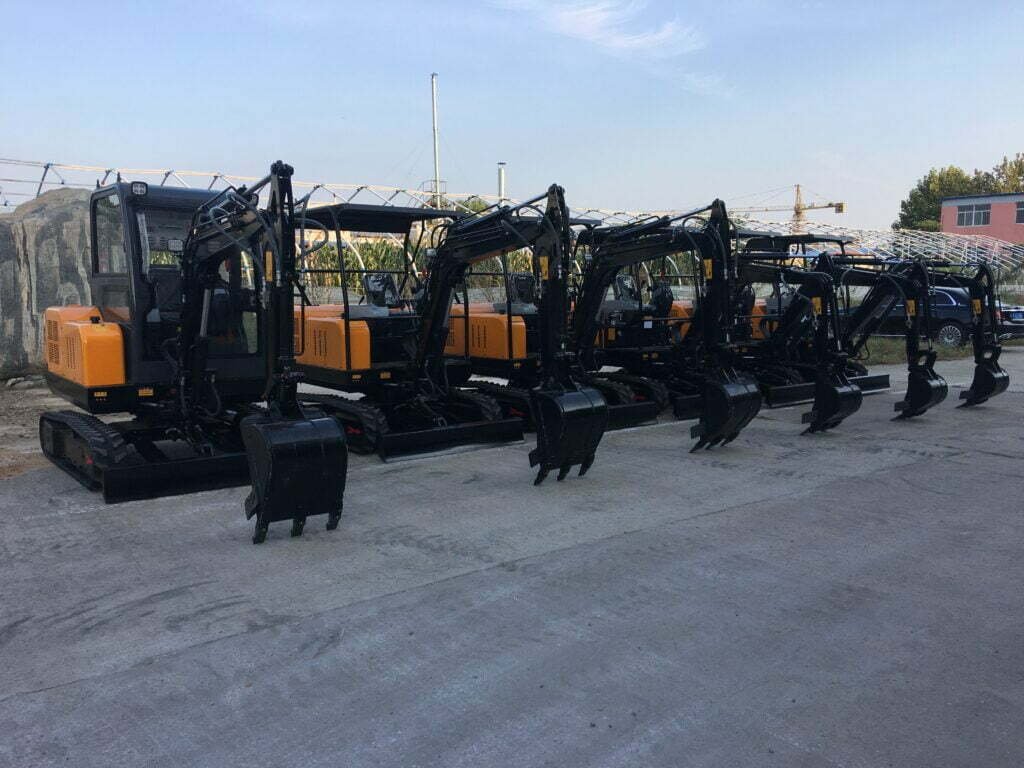 0.8 Ton Smallest Mini Digger
1 Ton Mini Digger HX10
Zero Tail Swing Mini Digger
2 Ton Mini Backhoe Excavator
Micro Digger Mini Trackhoe Excavator
6 Ton Midi Crawler Trench Excavator
22 Ton Crawler Excavator
For more products, please click here
FAQs
How much does a mini excavator weigh?
According to For Construction, 40% of the compact excavators on the market range from 3 to 4 metric ton weight class. However, there are larger machines with operating weights that range between 4 to 6 metric tons.
The lift capacity of some mini excavators can be increased slightly with the use of counterweights.
Most compact excavators can be hauled with a 1-ton or lighter pickup truck. However, anything beyond a certain weight size will need to meet DOT regulations, have stickers for identification, keep a logbook, and so on.
How to operate a mini excavator
You should read the manual of any mini excavator you are using to understand how to operate it. Also, you should not attempt to operate a mini excavator without first undergoing proper operation training.
How much does a mini excavator cost?
The price of a mini excavator depends largely on the size, types of attachments it supports, brand, dig depth, horsepower, and more. However, the average mini excavator costs from $5,000 and $30,000.
For more information on mini excavators, contact us today or visit the Hiosen website today.