The job does not end with you renting or buying a mini excavator. There are still a lot of things you need to consider. One of which is knowing what attachment to use in a specific situation.
Mini excavators are different from full-size excavators. Their small size makes them ideal for projects involving tight spaces. Whether you want to rent or buy one, you must know that there are a lot of mini excavator attachments. These attachments serve different purposes. There is an appropriate attachment available if you want to construct a swimming pool or dig a dip. In short, you cannot operate effectively if you do not have the correct attachment.
If you do not have knowledge about these things, that is a great disadvantage. That might even cause operations interruptions or, worst, equipment failure. Let us find out the best available attachments that you can use for your mini excavator.
1. Hydraulic Thumb Buckets
Hydraulic thumb buckets are recommended for picking or moving irregular-shaped objects. Examples of these are big stones, branches, or logs. The hydraulic thumb bucket makes it easier to grab objects of different sizes. It is because you can adjust it's anytime while in operation.
Operators can also easily open or close a hydraulic thumb bucket. They can do so by using the thumbwheel on the joystick. They can even adjust the speed of the opening and closing of the bucket. This feature is important to avoid damaging or crushing the objects you are picking.
2. Breaker or Breaking Hammer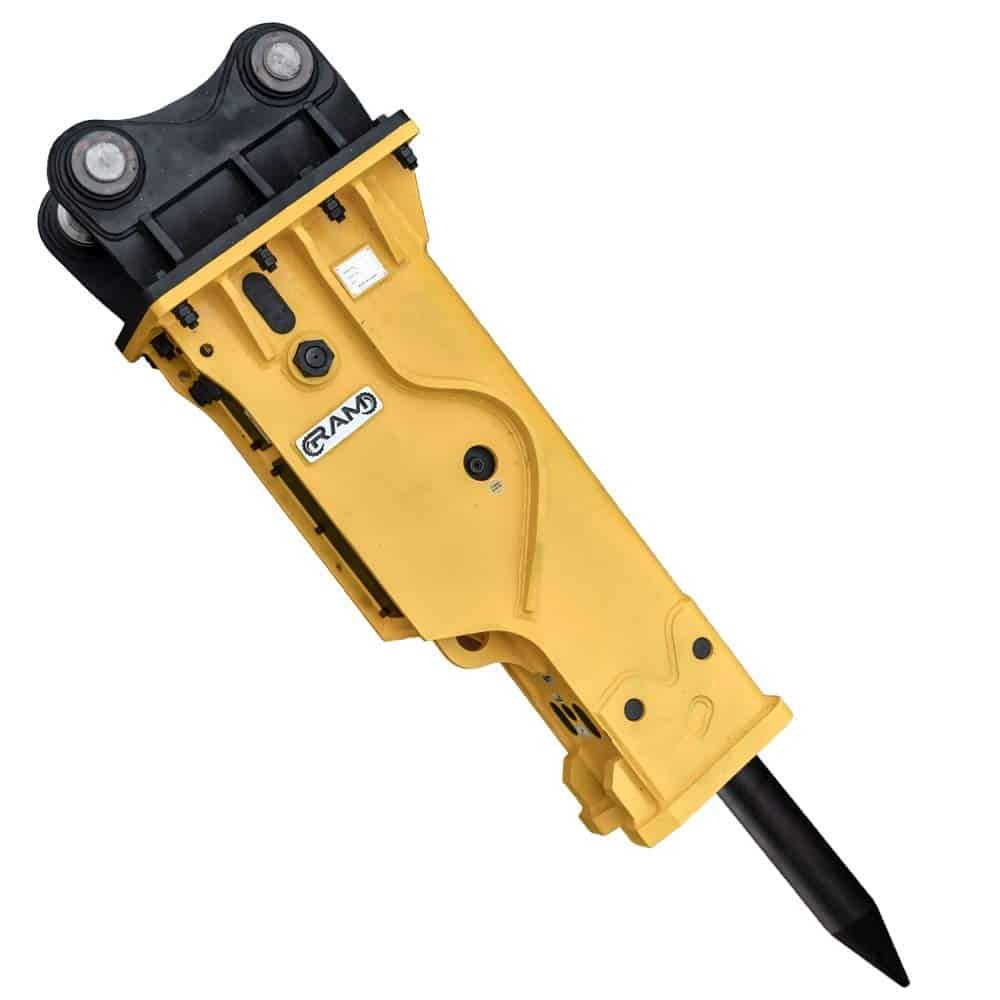 A breaking hammer is also known as a breaker. A breaker is best used during excavation or demolition. It is a useful attachment when you need to break down rocks, asphalt, or concrete. This attachment is also popular in mining sites. This is a must-have for every mini excavator owner. Almost all services would revolve around removing concrete piers or breaking large rocks. Buying this will make you prepared for any opportunity.
The pressure within the breaker is caused by hydraulic energy. This energy serves as the power for the attachment to operate. This makes it easier for you to move and break rocks into smaller pieces.
3. Auger for Mini Excavator
The auger attachment is considered small. But, it has a very useful purpose. You can use the auger to excavate holes for planting trees, fence posts, or concrete barriers. The attachment enables operators to dig holes easily. This even comes in various sizes, depending on the project you are working on. You can also change its rotation, speed, and torque for the best digging capabilities.
You have to be extra careful in choosing the right type of auger. It depends on the required depth and diameter of the hole. You also have to consider the ground conditions. They will have an impact on the type of auger you will be needing. The most common types of augers are heavy-duty, light-duty, tree, and rock augers.
4. Quick Hitch or Quick Coupler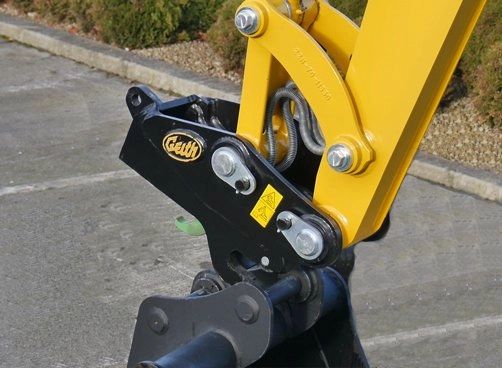 Quick hitch or quick coupler is defined by its name. The quick hitch is designed to limit the time and hassle of switching attachments. There is no need for you anymore to hammer out the pins just to detach the previous attachment. With a quick hitch attached, you only need to press certain buttons. It also increases safety. Operators do not have to switch the attachments personally anymore.
People often find buying this unnecessary. Others also want to save some money. Instead of buying a quick hitch, they would rather buy "more" essential attachments. But, a quick hitch is as important as others on this list. For example, a bucket alone can weigh around 45kg! Do you want your people to keep switching that heavy attachment every day? Of course not. Other than it is not ideal, it is also very prone to accidents. So if you believe that a quick hitch is not that useful, think again!
5. Ripper for Mini Excavator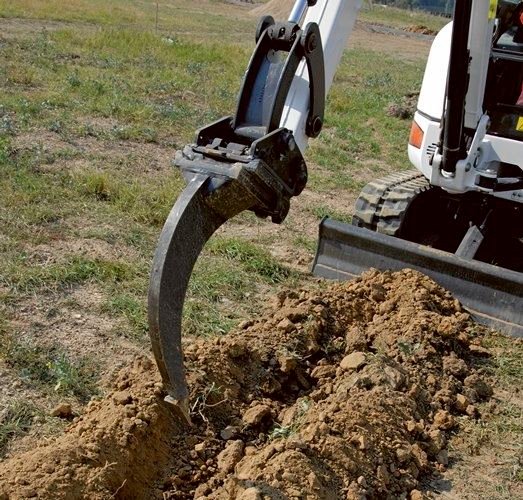 A ripper is an attachment that tears through frozen and tough soil ground. You need this if you have to rip through a hard-packed material with rugged force. It is mostly used as an initial tool. Operators use this first to smoothen the ground, at least. That way, clearing the area will be much easier. Once the ground has loosened, they simply switch to a bucket to finish cleaning the hole.
Rippers are often used in demolition sites. You can also use this to prepare the ground for the new framework. Rippers are also useful in landscaping projects, especially in breaking concrete.
A rake is an essential tool for piling brush or removing roots. It is also ideal for vegetation management or any general cleanup projects. Rake enables efficient clearing. It reduces the amount of soil collected along with the brush or materials. This allows for lower transportation costs and dumping. With a rake attachment, the material can be sifted and sorted. Any unwanted debris will be cleared out.
Another good thing about a rake is it is both in reverse and forward direction. This makes it easier for the operators to perform the job.
7. Forklift
In most sites, heavy objects are not new. These packages have to be transported from one place to another regularly. If you do not have any tools for that, it can be tiring for your staff. Not only that, it can even lead to delays or, worst, accidents. With forklifts, that problem can be solved. You can even save money from hiring costs since you do not need more lifter crews.
To the name itself, a forklift is used to lift and move materials. It makes your mini excavators more versatile. It allows the machine to pick up loads like a normal forklift truck. It can safely lift objects that your staff cannot, making them the most useful attachment in any site.
There is also a wide selection of models and styles for forklifts. You must know beforehand what you really need so that you can choose the right one. In Hiosen, our forklifts are designed for easier positioning. It is fitted with floating forks. These floating forks make loading and unloading more efficient.
8. Grapple or Wood Grabber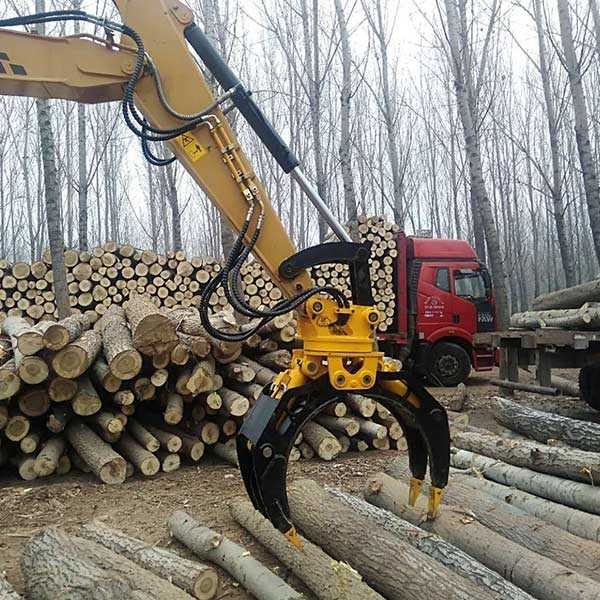 A grapple is a very handy attachment. It eases material handling. The attachment often looks like that machine you see in arcades. It's as if you are grabbing toys. Only that with a mini excavator grapple, you are grabbing much larger objects. With a grapple, you can handle logs, rocks, or poles. Basically, all large scraps are grapple-friendly.
The grapple also comes in a wide range of shapes and sizes. It is because every project differs from one another. Sometimes, a log grapple is much better to use than a five-peel grapple. There are also demolition grapples and rock grab grapples available. If you are having a hard time knowing the best grapple to use for a project, you may contact us.
9. Teeth Bucket
A teeth bucket is best for ground penetration. It will allow your mini excavator to dig grounds with the least possible effort. Its design allows for efficient digging works. That is the reason why a teeth bucket is one of the most in-demand mini excavator attachments.
The teeth are manufactured with low alloy steel with nickel and molybdenum. The nickel enhances its strength and toughness. This will prevent corrosion. The molybdenum will improve its hardenability as well as the strength of the steel.
Oftentimes, clients prefer forged bucket teeth, and we also accommodate those requests. Forged bucket teeth are made from heat-treated alloy steel. With our chosen steel brand, we ensure you that its strength and durability are of high quality.
10. Toothless Bucket
A toothless bucket is the opposite of a teeth bucket. It is suited for loading loose materials and digging pipeline trenches. Most of the time, a toothless bucket is useful in cleaning sites. After a long day of excavating, you can use this tool to move the debris lying around.
The good thing about this attachment is it can help reduce your maintenance expenses. Instead of hiring cleaning crews, their efforts can be moved elsewhere. This proves that a toothless bucket is an all-around attachment.
Bottomline
Finding the right attachments for mini excavators can be challenging. Besides these attachments, there are also many other tools that could be attached to the micro excavators. But as long as you know your machine and project very well, it can become easier. That is why proper research is important to know the various uses of these attachments.
You should also be aware of your working conditions. Check the ground's quality, the surroundings, and the project's goals. That way, buying mini excavator attachments will not be so hard anymore. You can always contact us to acquire more information.
With us, we assure you that you will have a guiding hand. We will go with you along the way. We will also address your inquiries. Once we have gathered all the necessary information, we will do recommendations. We will offer you the best attachments available for your project.
The attachments stated above are available in Hiosen. We hope that you learned a lot from this informative article. If you love to see more articles like this, you may visit our Blog Page. You may also contact us, and we will gladly accommodate you.