1. Description:
HIOSEN 1 ton digger mini excavator is designed for small jobs, small projects, in the garden, farmland, municipal works, vegetable greenhouse, or even used for digging the trench. The mini excavator comes with a single-cylinder engine, usually Koop or Changchai, quite easy to maintain. It is small enough and light enough to pass through narrow spaces easy to be moved with small trailers.
2. Parameter:
| | |
| --- | --- |
| Model | HX10 |
| Bucket capacity | 0.02m³ |
| Engine power | 8.6 KW |
| Climbing gradient | 30° |
| Total length | 2650 mm |
| Total width | 940 mm |
| Total height | 1330 mm |
| Platform turning radius | 770 mm |
| Crawler length | 1090 mm |
| Crawler width | 180 mm |
| Maximum digging height | 2490 mm |
| Maximum digging depth | 1650 mm |
| Maximum dumping height | 1750 mm |
| Maximum ground level digging reach | 2400 mm |
| Minimum turning radius | 1190 mm |
 3. Application
Hiosen 1 ton mini digger comes with a range of buckets ranging from 200mm, 300mm, and 600mm wide, ideal for small trenching, landscaping, and excavation projects. Common applications include trenching for sewerage, electricity, and stormwater, ground levelling and safe movement of earthing and building blocks. This machine is safe and easy to use for any level of the operator.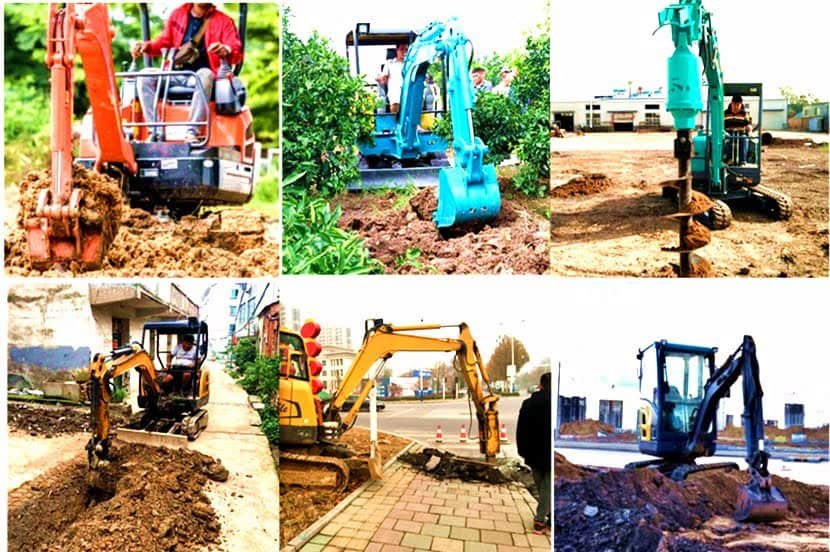 4. Attached tools
As the very small excavators, this 1 ton digger mini excavator could also be attached a variety of tools for all different tasks such as Drilling holes for tree planting, Breaking the small pavement with a breaking hammer etc. When you need the 1 ton mini digger for your small work, please contact us for the detailed attached tools.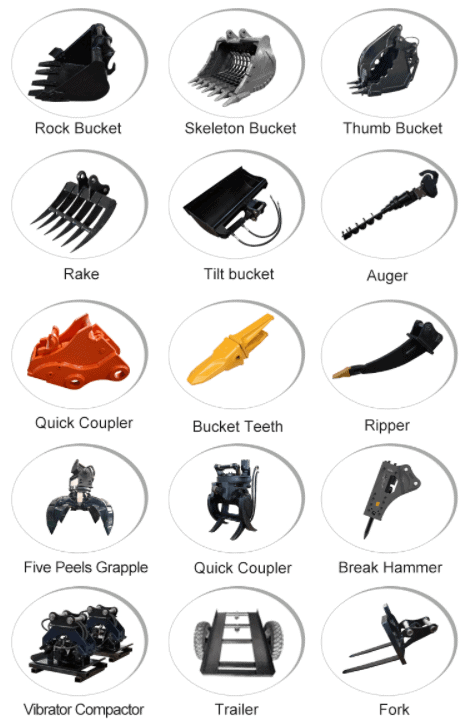 5. Package and Delivery
If you intend to import mini diggers from China, the package and delivery method have to be taken into consideration. Here is a brief tips on package.
If the ordering quantity is 1 or two sets, we can pack that within the exporting standard wooden box.
20GP container could load 6 sets of HX10 small excavators inside.
40HQ could load 24 sets without canopy mini diggers.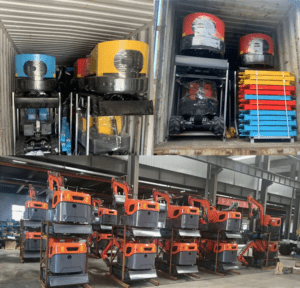 If you are looking for a mini excavator for sale, if you need the mini digger for your own jobs or constructions, please contact us.
If you are the dealer/wholesale/vendor/distributor for the micro digger for sale, you are at the right place.
You are warmly welcome to contact us with any questions regarding the mini excavators.