Introduction
Hiosen 1 ton mini excavator is the second least weighted excavator after the 0.8 smallest mini excavator. It is specially designed for activities at a very small scale such as trench digging, vegetable greenhouse, municipal work, farmland, and garden. The 1 ton little excavator is equipped with a Koop, also known as a single-cylinder engine. This makes it quite easy to operate and maintain. Just like the 0.8 ton compact excavators, it is also small enough to work properly through small trails and narrow spaces.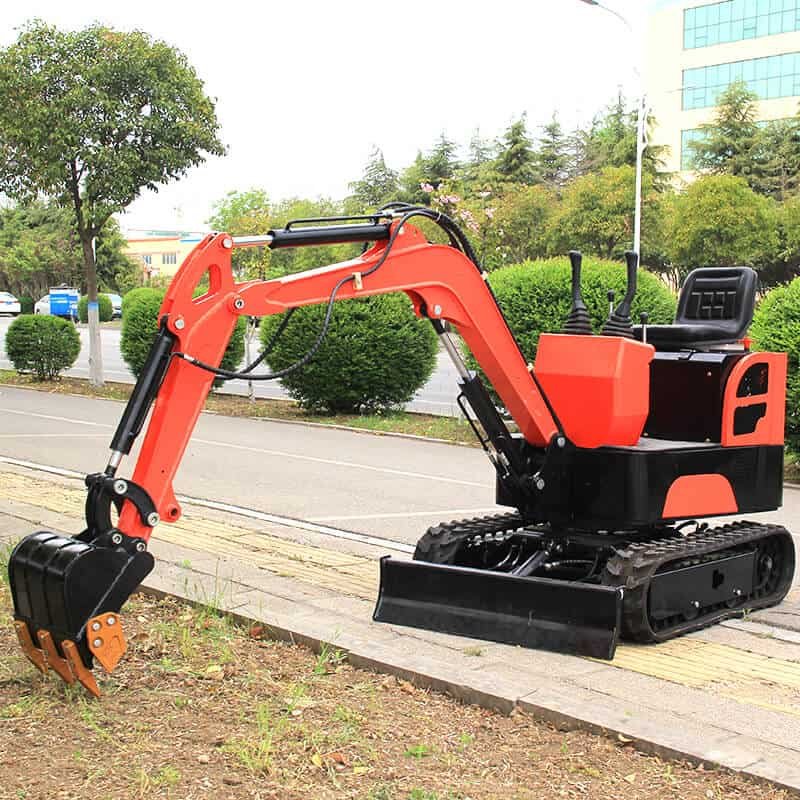 Also, there is another model of 1 ton digger in stock. We call it HX10Pro, it is new designed with all the functions. What's more, there are many options available. Such as: the chassis could be withdrawn or expanded, that is called retractable track; the boom could be swinged while the body keeps 360° rotated. 
The specifications of 1 ton compact excavators vary from the other models available at Hiosen. Most features are similar in all models. It is the weight and specifications that create a huge difference. It can also attach some important components for performing different jobs. These components can be different types of the bucket, Auger, rake, ripper, quick coupler, fork, and trailer, bucket teeth, vibrator compactor, and even five-peels grapple.
Specifications of 1 Ton Mini Excavators
When choosing a model from Hiosen for your small projects, don't forget to check its specifications. You should know what type of specifications you require based on your job site and task. Once the requirements are finalized, you can choose the right model or ask the manufacturer to customize it for you.
| | |
| --- | --- |
| Model | HX10 |
| Bucket capacity | 0.025m³ |
| Engine power | 7.6 kw |
| Climbing gradient | 30° |
| Length | 2650 mm |
| Width | 880 mm |
| Height | 1330 mm |
| Platform turning radius | 770 mm |
| Crawler length | 1090 mm |
| Crawler width | 180 mm |
| Max. digging height | 2490 mm |
| Max. digging depth | 1650 mm |
| Max. digging distance | 1750 mm |
| Max. ground digging distance | 2400 mm |
| Min turning radius | 1190 mm |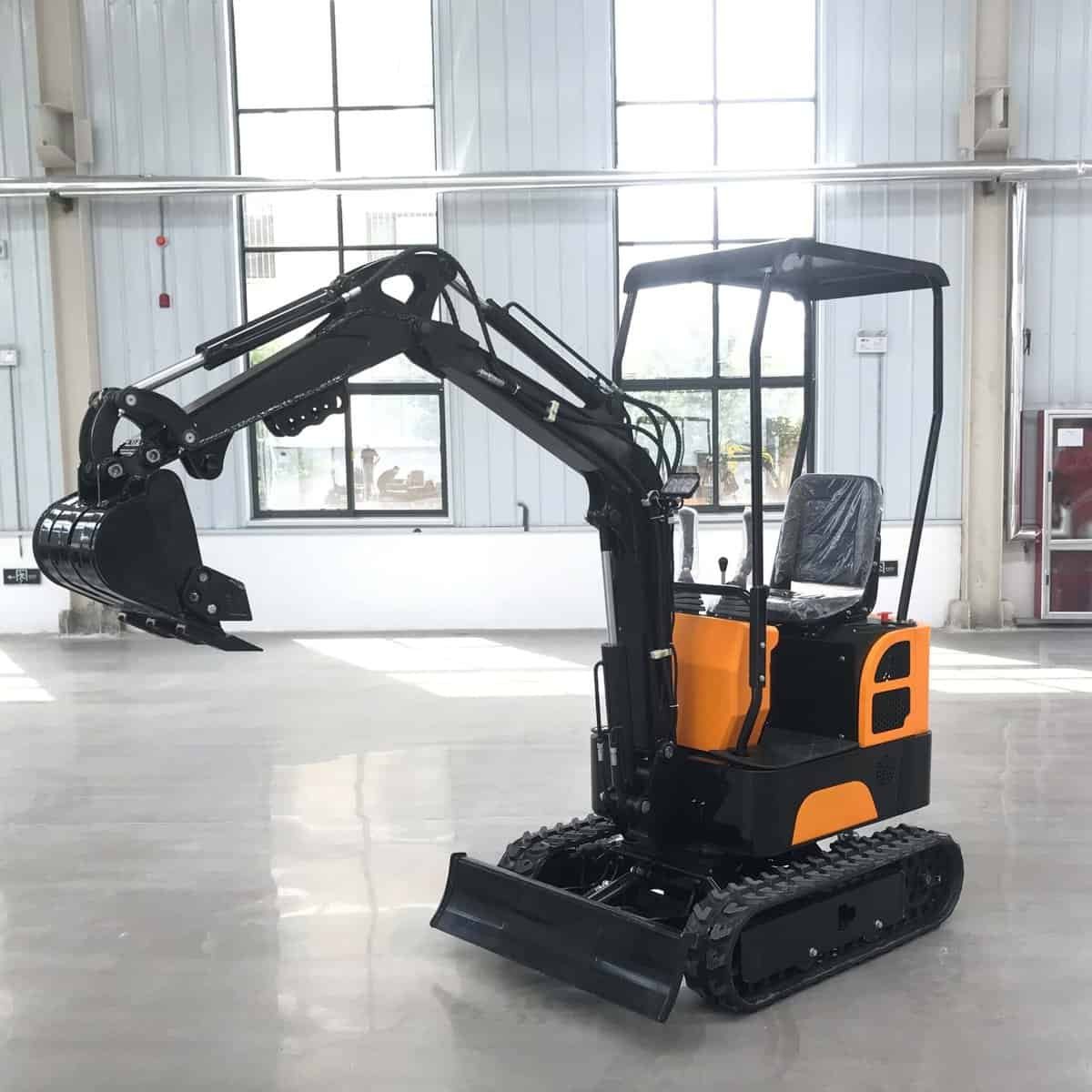 Advantages of 1 Ton Compact Excavators
The demand for a 1 ton mini excavator has skyrocketed during the past few years. The little compact excavators may look very small to handle a job but they are still capable of packing a mean punch. Having a compact body, it has different features to help you complete the job effectively. This indicates that they have a versatility of functions available. Some important features of your little excavator are listed below:
1-ton mini excavators are quite easy to use as compared to large-sized excavators. You can start it immediately and operate it like a professional.
They have the ability to maneuver easily in tighter spaces. This is the major selling point of your small excavator. Operators and contractors consider it a major advantage.
By minimizing sound stress, 1 ton mini excavators can be your perfect partner to handle different jobs quietly.
With this little equipment, they have the ability to avoid work with less damage to the targeted surface.
Lastly, they are amazingly easy to be transported anywhere, and save money and time with multifunctional features.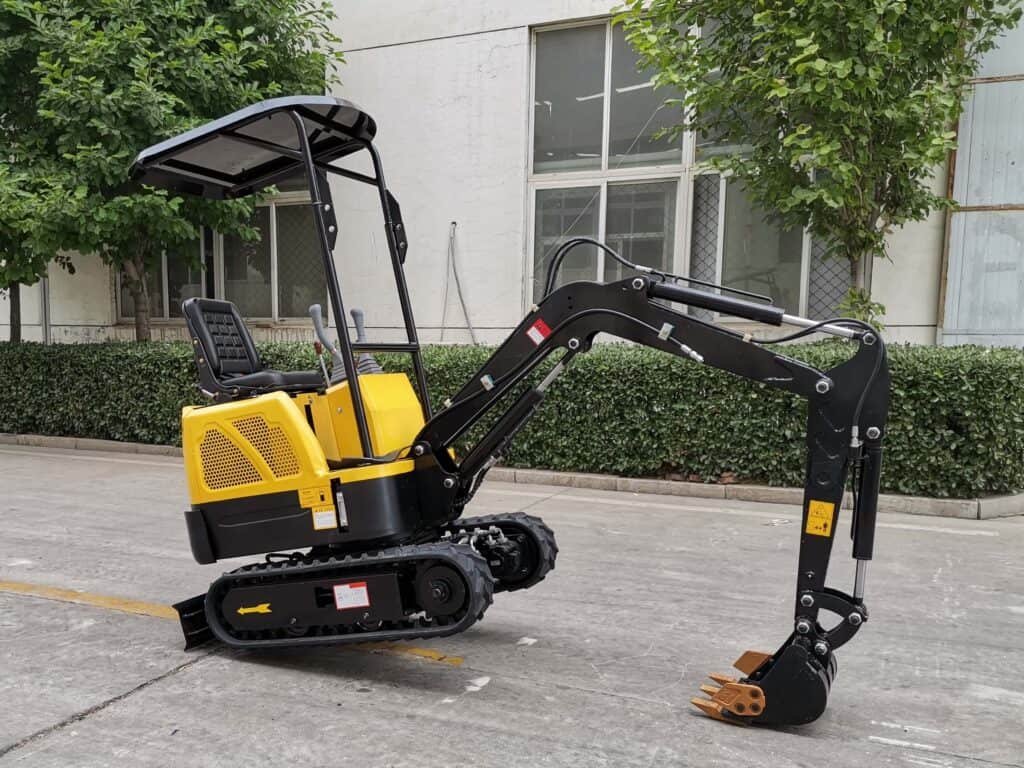 Applications of 1 Ton Compact Excavators
✔ Installation of hot tubs as well as pools in large buildings and homes.
✔ When there is no other option, the one-ton excavator can be your best partner to plow the snow in winters.
✔ Sheds like small structures are easier to destroy through the help of a mini excavator.
✔ Mini excavators can ideally dig holes at difficult places of construction sites.
✔ Repairment of sewer lines can be done efficiently through a mini excavator.
✔ Landscaping projects and trenching work can be done through a mini excavator.
✔ Farmland and garden excavation is effectively achieved through your one-ton mini excavators.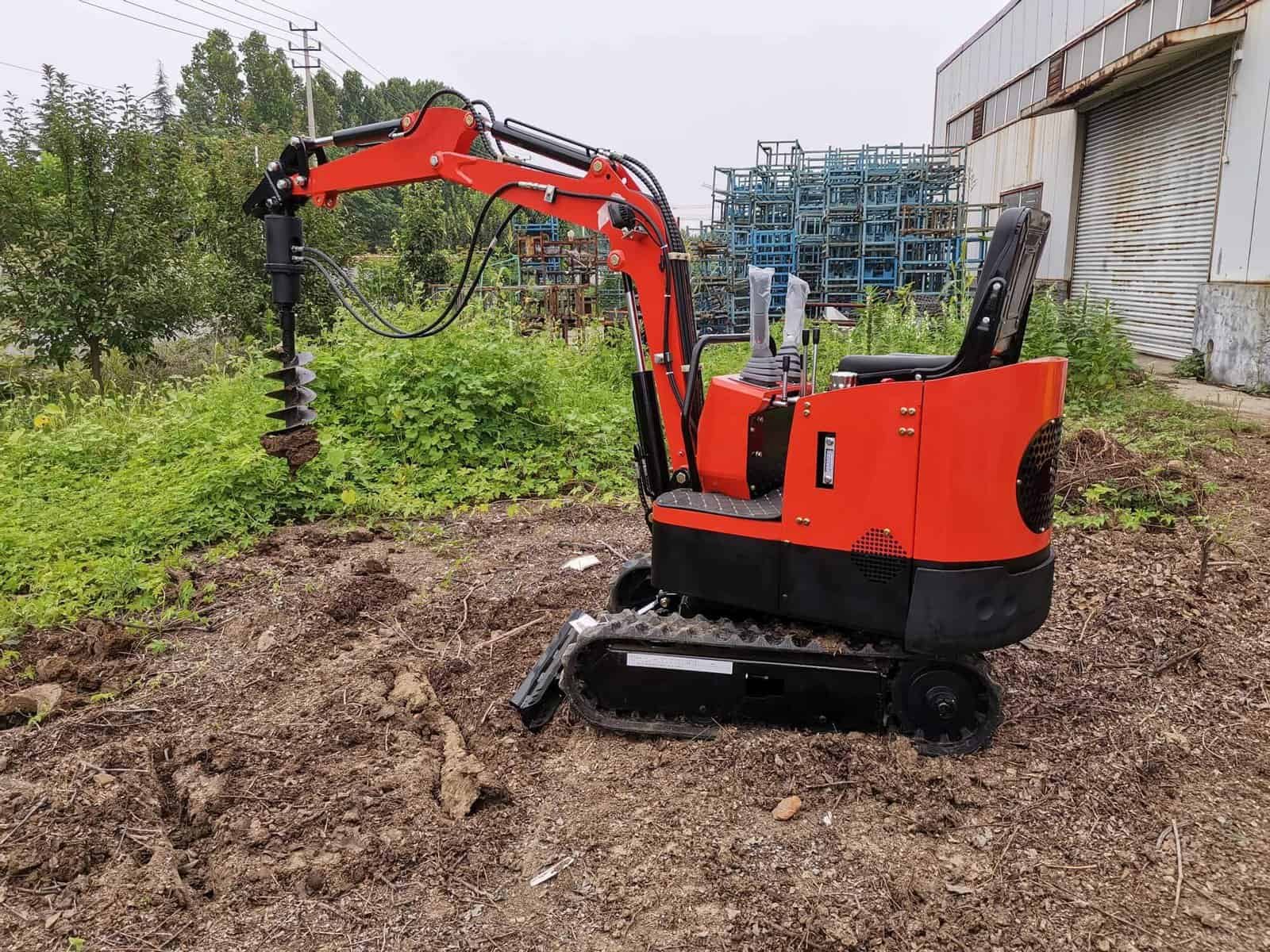 Safety Tips To Follow For Digging Excavators
1-ton mini excavators are capable of delivering high performance with versatility and durability. However, they still need to be used safely. You need to follow the manufacturer's instructions regarding the usage of your small excavator. No matter how small the product is, safety should be your top priority. There are some safety tips given below to help you use the 1-ton mini excavator listed below:
First of all, wearing personal protection equipment is an essential thing. At some point, you need to wear hand gloves as well as ear protection. When working on construction sites, you need to wear hard caps, safety glasses, and durable feet.
To reduce the chances of falls and slips, you need to maintain three points of contact. This act can also improve stability while working with your little excavator.
Whenever you drive a vehicle, it is important to wear a seat belt for your safety. While driving a little excavator, you need to wear a seat belt for protection if the machine collides or overturns.
Safety interlock is another safety feature to prevent you from getting injured at jobsite. You will get more space to get out by raising the safety interlock. Actually, this feature locks the components of a little excavator and you can safely exit.
In some mini excavators, there exists a camera feature. These safety features allow you to evaluate the surrounding area while you are driving the excavator. This will ensure that you don't damage or collide with any surrounding object. Make sure that you take full advantage of a camera safety feature.
The most important thing is to maintain the distance of blades while you are working with the excavator. For a one-ton mini excavator, you can achieve stability by maintaining the blade at the backside of the Excavator.
Why Should You Choose Hiosen For Excavator Machines?
When you decide to choose a manufacturer, you know each and every detail about him. Different factors decide combined if you need to choose a certain manufacturer or not. For example, some factors are prices, quality, operating weight, dig depth, after-sales, and before-sales services. When you compare different brands such as bobcat, John Deere, Hitachi, Kubota, and Caterpillar, you will observe different varying factors. The operator has to decide which brand fulfills his requirements.
Some solid reasons explaining why you should partner with Hiosen, are listed below:
Hiosen is a leading Chinese brand for manufacturing mini excavators.
Hiosen owns different models ranging from 0.8-ton weight to 60-ton weight.
The staff at Hiosen has 60 years of experience in delivering its best quality.
Hiosen can customize your demanded specifications of mini excavators.
They test the product after the production of the mini digger is completed.
Hiosen experts give you better customer support services to ensure a better experience.
They ensure the reliability of the mini diggers' quality with comprehensive Services.