Introduction
HX15 micro digger is one of the models of mini excavators. It has a different weight and technical specifications as compared to other models. Based on its technical specifications, you can decide whether this model can be a perfect match for you or not. Therefore, we have decided to add some useful information about our HX15 micro digger. You will get to know about the technical specifications or details, operating weight, applications, different attachments that can be equipped with it, and its technical advantages.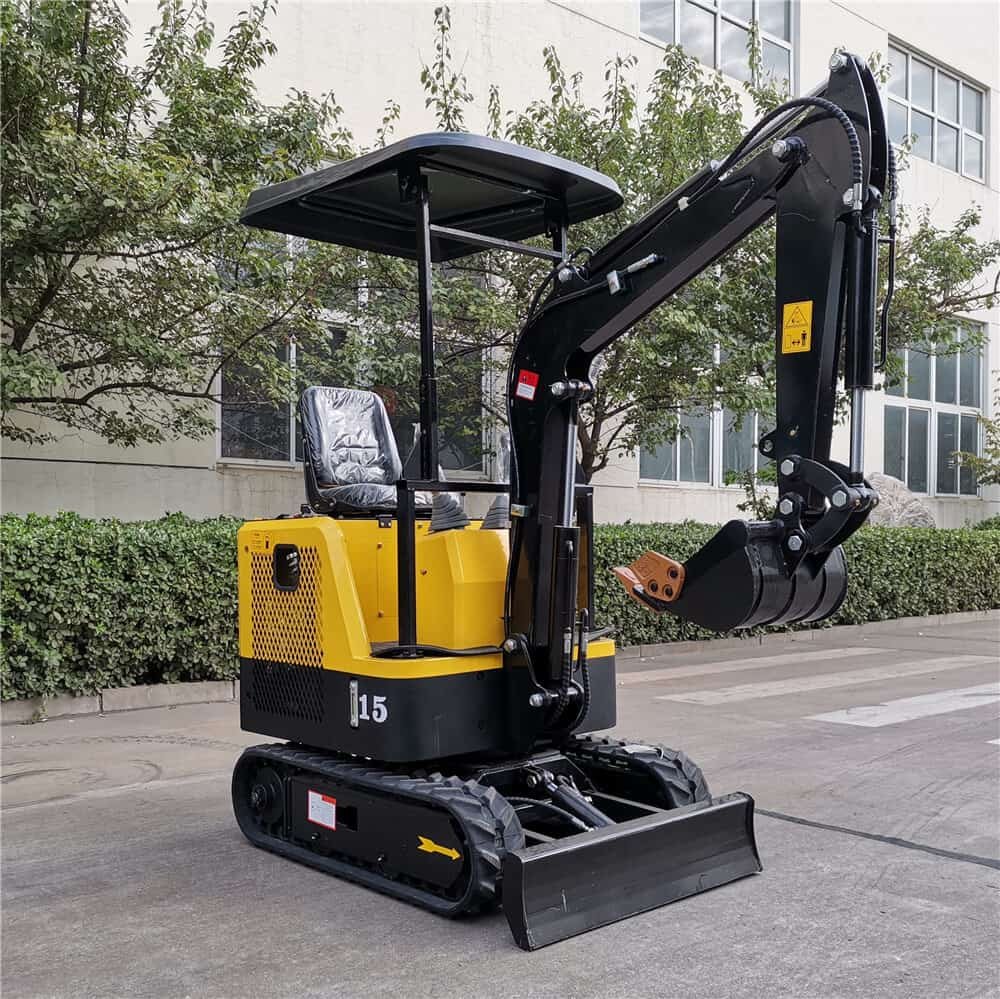 Moreover, at the end of the article, we will let you know why we can be your best partner for micro excavators.
If you are looking for an ideal model for constricted digging and ultimate support, then the HX15 micro digger is absolutely a perfect choice for you. Due to its compact design, it is by far, a hot-selling model.
Technical Specifications
| | |
| --- | --- |
| Model | HX15 |
| Bucket capacity | 0.025m³ |
| Engine power | 12 kw |
| Climbing gradient | 30° |
| Total length | 2650 mm |
| Total width | 980 mm |
| Total height | 1330 mm |
| Platform turning radius | 770 mm |
| Crawler length | 1250 mm |
| Crawler width | 180 mm |
| Maximum digging height | 2500 mm |
| Maximum digging depth | 1650 mm |
| Maximum dumping height | 1850 mm |
| Minimum turning radius | 1550 mm |

Applications of the HX15 China mini digger
Hiosen mini digger HX15 is equipped with a 300mm bucket on the front end of the arm, adopting the backhoe method. There are wide applications of our HX15 micro digger. The interesting part for our customers is that they can increase the applications by changing different attachments. Since different attachments can be used for different applications, you can benefit from its features in a single place. For example, it is equipped with a 300mm bucket at its arm's front end. This is how it adopts a backhoe method.
Some unique applications of our HX15 micro digger are listed below:
Digging
Trenching
Trees plantation
Preparation of patio spaces
Irrigation systems installation
Electrical systems and Plumbing systems installation
Excavation of plots for different construction purposes.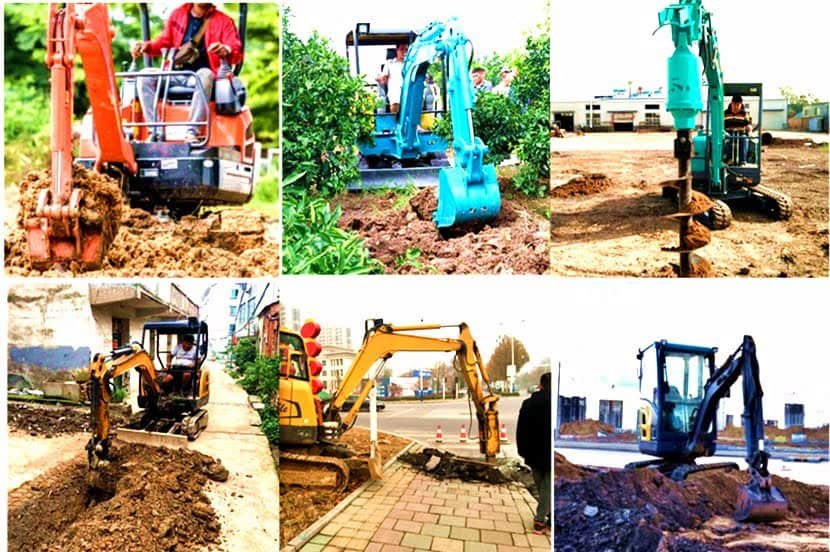 Different Attachments & Their Sub Types
Just like other models present at Hiosen, our HX15 can also be equipped with different attachments to allow multifunctionality. The best part about the HX15 model is that it has different tools to be equipped on the arm's front side.
Moreover, the mini excavators at Hiosen are all equipped with high-quality hydraulic oil pipes. You just need to make a quick hitch and then you are all ready to switch the tools easily and quickly. Some attachments and sub attachments of your HX15 mini excavators are listed below. You can choose among different sub buckets to perform your job more effectively.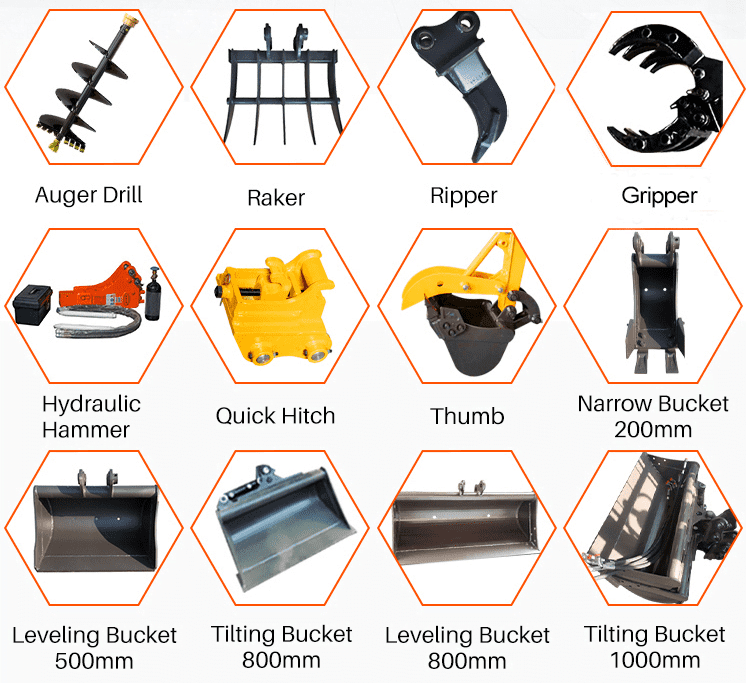 Technical Advantages Of this Micro Digger Model
Hiosen's mini excavator models have amazingly perfect technical advantages due to various factors. These factors can be highly skilled manufacturing staff, the manufacturing material, and equipped attachments. Some advantages of our HX15 micro digger are listed below:
Our 1.3-ton mini excavator model is capable of working in confined spaces. This ensures easy handling of big projects.
HX15 micro digger doesn't make noise and still, you can operate it powerfully and efficiently. This ensures its high quality working at home and in residential areas.
It can easily access limited entrances at working sites.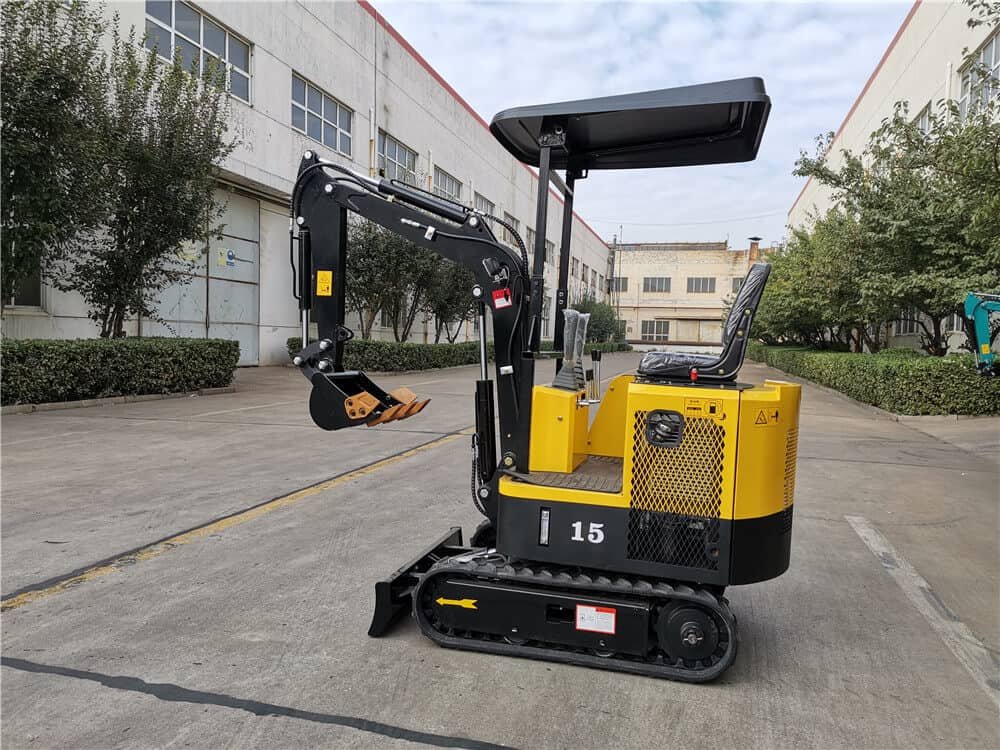 Due to their compact design and weight, they are easily transportable to wherever you want & save your costs.
HX15 micro excavators can reduce ownership costs by 15% when compared to other excavator models. This indicates the cost-effectiveness of mini excavators.
Having a simple design, micro excavators are quite simple to operate and easy to learn for beginners. Hence, you can learn about its technicalities and functionalities within no time.
HX15 mini excavator can exceed your expectations by handling tough jobs and giving the best performance through its attachments.
A lot of attachments equipped with it can allow you to perform a large variety of jobs. You can have different types of buckets and hammers.
How To Maintain Little China Excavator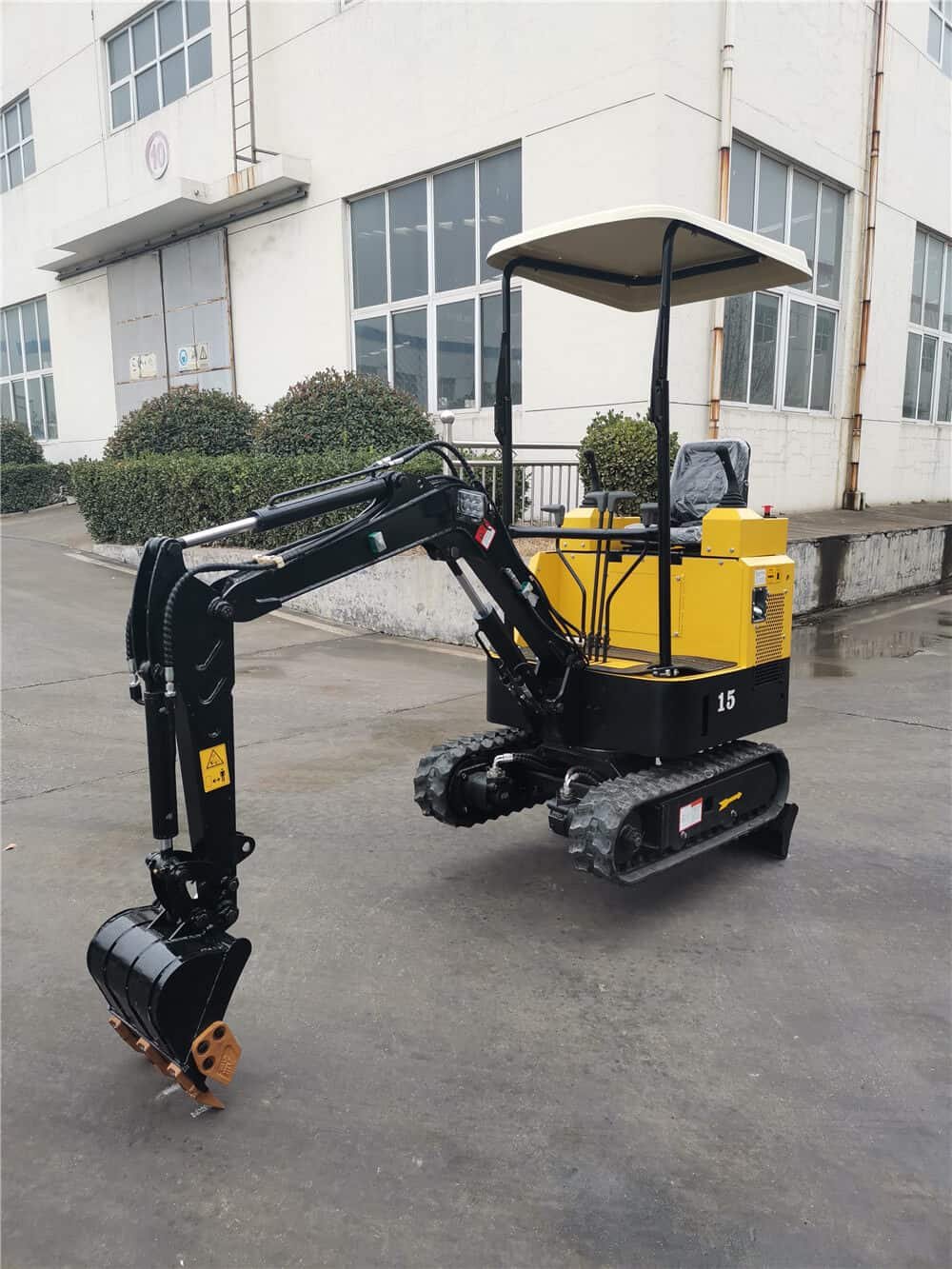 To ensure the use efficiency of your mini excavator on regular basis, you must have to maintain it. It is advised to take proper maintenance actions and inspections for your small excavator. The longevity, value, and function of your mini excavators is improved with time. Some maintenance knowledge points for your 1-ton mini excavators are written as under:
Inspect coolant levels, engine oil, and outer air filter element
Inspect the oil cooler as well as the radiator to ensure there are no leaks.
You have to check the trap of fuel water on a weekly basis. If there is any buildup of water, you need to remove it immediately.
Fuel and hydraulic oil levels also need to inspect at regular intervals.
Check the undercarriage and track of your small excavator.
Inspect hydraulic hoses to search for Leaks
All pins and bushes should be greased on regular basis.
Make sure your bucket doesn't have any signs of wear and tear else you need to replace it.
Check overall mini excavator for damage and wears. If any part is not working fine or got damaged, you need to replace it immediately.
If you don't find any such above points, you can also refer to Hiosen's operator manual.
If you are looking for some high-quality 1.3-ton mini excavators then don't forget to reach out & Contact Us now. We can be your perfect excavators' brand.
How to Pack and Deliver the HX15 Mini Digger Small Excavator
If you intend to import mini diggers from China, the package and delivery method have to be taken into consideration. Here is a brief tip on the package.
If the ordering quantity is 1 or two sets, we can pack that within the exporting standard wooden box.
20GP container could load 6 sets of HX15 small excavators inside.
40HQ could load 24 sets without canopy mini diggers(at the condition that the canopy and boom were taken apart).
Why Hiosen Can Be The Best Excavator Partner?
There are various factors to explain why Hiosen can be your best small excavator manufacturer in China.
First of all, we are leading manufacturers to make different customized models of mini excavators.
We have gained a huge experience of 12 years to solve your problems related to small excavators.
We let you share your requirements so that we can design it according to your desires.
We have hired skilled staff for the manufacturing, testing, and delivery of your mini excavators.