Basic Description
Hiosen has a large variety of different mini excavator models. HX18T super micro excavator is another affordable micro excavator at Hiosen. It offers great ease of maneuverability. This is what reduces the chances of to damage the obstructions, fences, buildings, and machines when working near them. The super mini size of this mini ex small digger allows you to work easily in confined places.
If you want to buy our HX18T mini ex small digger excavator, then this description has everything for you. Based on the listed applications, market price, specifications, attachments, and other features, you can make a better decision to buy it. Just continue reading!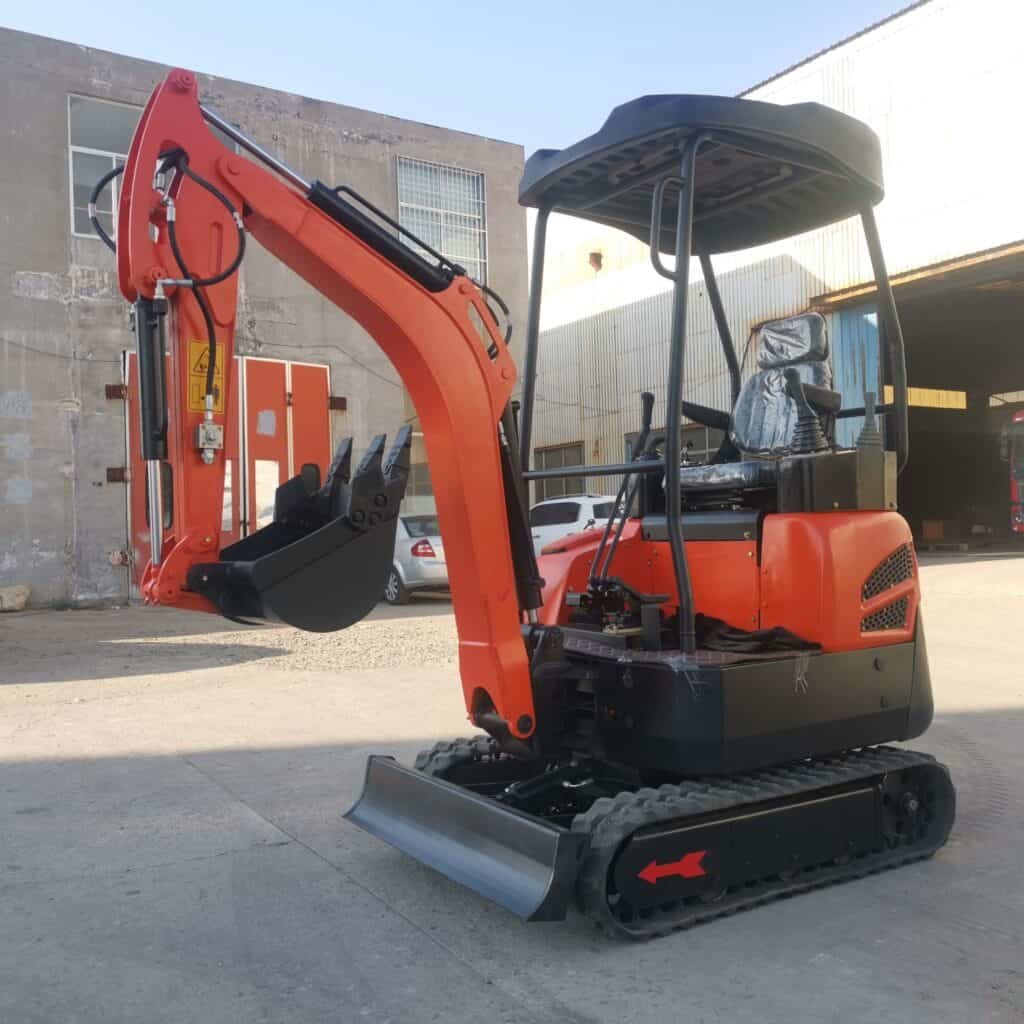 Technical Specifications
The technical specifications of your mini excavators may vary depending on its model. You can ask Hiosen manufacturers to customize specifications that meet your needs. For this purpose, you have to consult with them through email. After getting your details, our experts can customize them for you. Our HX18T model has the following technical specifications:
| | |
| --- | --- |
| Model | HX18T |
| Dimensions | 2250*1100*2300 |
| Bucket Capacity | 0.03m³ |
| Engine Power | 18.1KW |
| Weight | 1400KG |
| Rotation Speed | 10r/min |
| Walking Speed | 2.5Km/hr |
| Length | 2550 m |
| Height | 2280 m |
| Width | 1100 m |
| Crawler Length | 1300 mm |
| Crawler Width | 180 mm |
| Height of digging | 2840mm |
| Height of Dumping | 2200mm |
| Depth of Digging | 1800mm |
| Radius of digging | 3400mm |
| Minimum turning radius | 1190mm |
| Climbing Gradient | 30⁰ |
| Swing Angle | 360⁰ |
| Maximum Depth Of Bulldozer | 175 mm |
Attachments
Attachments of HX18 can help to extend its applications. Several attachments are designed to perform several tasks through your mini excavator. Some attachments of the china mini excavator are listed below:
Bucket (Different sub-types)
Auger
Gripper
Rake
Ripper
Quick coupler
Bucket teeth
Hammer, etc.
Applications
The applications of our HX18 mini excavator are more common at places where you need digging at an angle of 90-degree arcs. The use of our best mini excavator in China is most suitable for construction sites. You can use this machine easily without worrying about pedestrians or traffic.
Product Options
This model is like most common models that, many options are available:
Closed cabin
Kubota engine
Air conditioner

Retractable chassis
Warranty & Guaranteed Services
Warranty and guarantee are the two most important parts that you should consider when buying anything. It matters the most especially when you are buying electrical products from large machinery. Since such products possess large chances of damage, having a warranty can help you fix them free of cost.
Hiosen offers a warranty for a particular time period with their compact excavators. Moreover, they give high-quality pre-sales and after-sales services. Investing in Hiosen's HX18 model or any other product can be your best decision since they have amazing customer support services. You get guidance even after the product is delivered to your doorstep.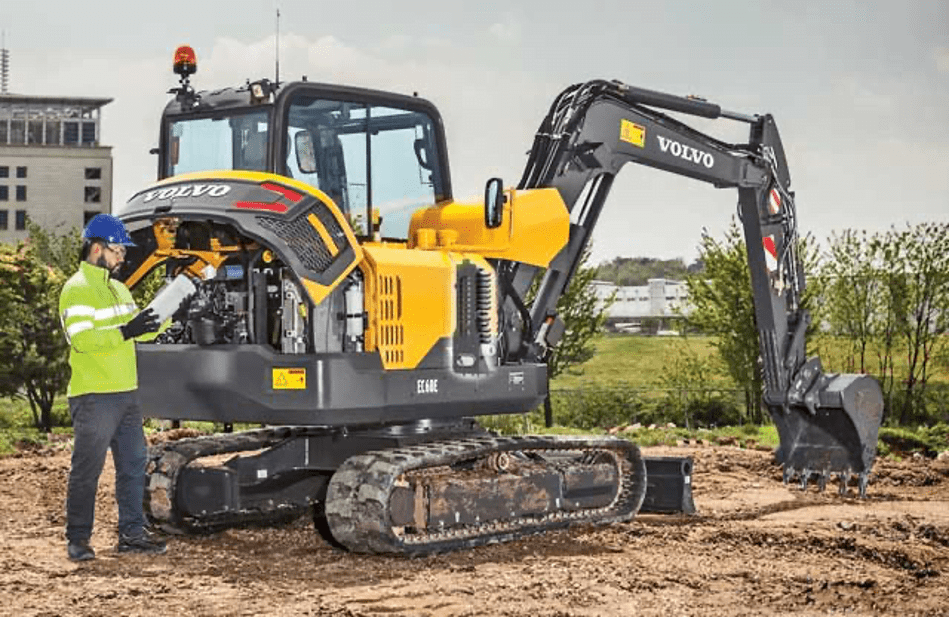 Package & Delivery
Packaging and delivering are two important aspects to consider. Without proper packaging and safe delivery, there are large chances of receiving the damaged product. Most manufacturers don't consider these factors. As a result, your money is wasted by getting a damaged product.
To save our customers from damaged products, we ensure the safe delivery of our products. We pack them into high-quality standard wood boxes whether you buy one piece or multiple pieces. Secondly, we deliver it through your preferred mode of transportation whether it is cargo, plane, or by sea.
Manufacturing Process Of HX18T Mini Ex Digger Excavator
The manufacturing process of Hiosen's mini excavators is not very difficult to understand. Different parts have to pass through different steps one by one. After all of the parts are processed successfully, they are assembled to get the whole machinery. Here are some steps listed below:
First of all, the Hiosen collects raw material. This raw material goes through a cutting procedure for precision purposes.
After cutting is done, molding takes place to shape your product in different structures.
Welding takes place after the third step. This process can be carried out in two ways. Through a professional hand welding as well as an automatic welding factory.
After welding of material, sandblasting is done to improve its performance of the material. This is to clean the surface of the workpiece.
To increase the reliability, shot blasting is done after sandblasting.
After all these steps, the most important part, assembling, takes place. This process joins all the materials together to create a final mini excavator.
Then the assembled machinery is taken to the modern painting room. In this room, topcoats, primers, and paintings are done.
In the end, commissioning or testing takes place. This step ensures that the mini excavator is working without any problem.
Safety Tips To Operate HX18 Micro Digger
Safety tips are the most important part of operating your best mini excavator in China. You have to take care of the safety part before an operation, after the operation, and during the operation. Here are some safety tips listed below:
Mini excavator safety tips before the operation
Put seat belts for security as well as comfort.
Mirrors should be set and cleaned properly.
Don't forget to check if the controls are working properly.
To prevent any kind of accident, don't forget to check to propel system.
During Operation safety tips:
Don't allow riders to ride on cabs, buckets, or any other place. You should sit on the excavator seat to ensure safety.
Don't operate the small excavator unless you have taken full control of it.
Select the fastest route when moving your excavator around the working site.
You should never try to dig or excavate underneath your excavator.
You should never try to clean the bucket by hitting it with any hard surface.
If you forget anything then try to check the manual during operation.
Try to avoid operating it near humans or animals.
Try to remove important stuff while you are operating it.
Safety Tips after the operation
Turn off the used mini excavators properly.
Park your mini excavator at a stable level
When you come out of a used mini excavator, you shouldn't forget to lock the cab.
Hiosen's Quality Standards For 1.5 Ton Micro Excavator
The manufacturers at Hiosen company follow strict quality standards. They give you the best mini excavator manufactured by a high-end product line.
Through their strict testing policy, they make sure that there occurs no fault in their construction equipment.
The best mini excavator in china at Hiosen is CE approved. Moreover, the engine emissions also follow EPA Tier 4 and EURO V standards.