Over the years, mini excavators have become a huge part of the construction industry and a must-have in the arsenal of household contractors. Several factors led to the popularity of mini excavators all over the world, some of which include ease of use and lower cost of acquisition. To satisfy this increased demand, several well-known brands in the construction industry, such as Caterpillar, XCMG, and Kubota have all released lineups of mini excavators. While these mini excavators are usually known to be of high quality, the cost of purchasing one is usually very high.
For many wholesalers and retailers of mini excavators, the products of big brands cannot satisfy their needs for profit. This is where the small excavators made in China come in. Technology in China has matured. Plus, several years of research and development have helped the country achieve a high level of reliable mini excavator manufacturing techniques. This means that the mini excavators made in China are both cheap and reliable.
For many people, China is not a country that you simply waltz into. There are several barriers involved in importing anything from China. Also, the recent COVID-19 pandemic has made the importation and exportation of anything way harder than it was.
This blog will explore your options for buying mini excavators from China and other factors such as price, brand, best importation routes, and more.
Choosing the right mini excavator supplier
The best thing about rapid technological advancement in a particular area, such as the manufacture of mini excavators, is that more companies can dabble in the production of these magnificent and efficient machines. A quick Google search or peruse of Alibaba or Made-in-China websites, two of the leading B2B websites in China, will reveal hundreds of manufacturers and suppliers. The real problem is knowing the right one to choose.
There are two ways of buying mini excavators from China. You can buy directly from a manufacturer or a trader.
Choosing between a Manufacturer or a trader
The advantage of buying from a manufacturer or a factory is that you get a lower price. The disadvantage, however, is that you have to worry about transportation and shipping yourself.
By choosing to buy from a trading company, you can be sure of getting a more detailed service. Plus, it is much easier to get in touch with traders than it is to get in touch with a manufacturer. This is because more companies are selling mini excavators than those manufacturing them. The truth is, these days, you don't have to worry about choosing between a trader or a manufacturer. All that you need to worry about is whether or not you are okay with the products and services provided by whomever you are buying from.
Hiosen is one of China's leading hydraulic excavator manufacturers, with over 10 years of manufacturing experience. Our products range from 0.8-ton mini diggers to 60-ton hydraulic excavators, with everything available for export at a moment's notice.
Hiosen makes it easy for its clients to order excavators directly from China by sorting out all the transportation requirements in China for them. All you have to do is contact the team for a quote and the team will handle the rest for you!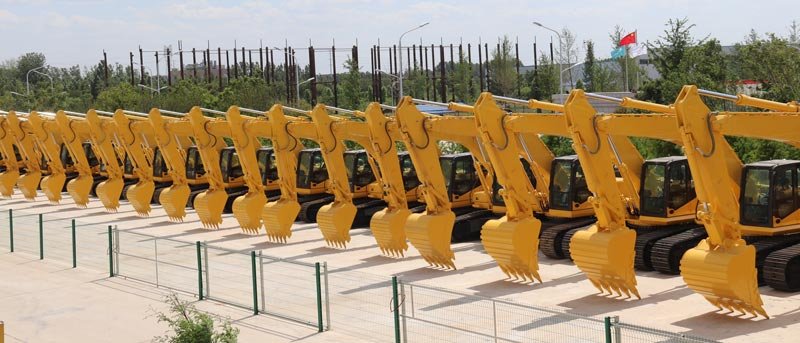 Finding a reliable supplier of mini excavators in China
Finding the right trading company for your mini excavator is not an easy task especially in China. This is because most small trading companies consist of only one or two employees. These companies sometimes deliver on their promises, however, many small businesses in China are known to disappear over time. To avoid doing business with a company that can't guarantee delivery, there are a few precautions that you can take.
They are:
Request for a Business License
Check Company's Customs Data
Check for Alibaba or Made-in-China store presence
Look for the company's website and review it.
Check Alibaba's Supplier Reports
Ask for a Video Verification
Ask a Chinese Resident for Help
Check online stores for customer validation
Request for a Business License
Every legitimate business should have an operating license that allows it to operate in a particular country. You can request to see the business license of the company that you wish to buy mini diggers from. This is one of the best ways to find out if a company has been operating for a long time. Hiosen is always willing to show its business license to prospective customers, all you have to do is ask!
You can also review the company's profile on Alibaba.
2. Check Company's Customs Data
The customs data contains trade information between Chinese companies and over 20 other countries. By searching for a company's export status, you can discover whether it is a legitimately operating company or not.
3. Check for Alibaba or Made-in-China store presence
Cross-border e-commerce has been a trend for a while now, and two companies have been at the forefront of it; Alibaba and Made-in-China. These two largest B2B websites in China have most manufacturers of mini diggers on their websites, and a simple search on these websites would provide information about the seller or manufacturer you are about to do business with.
Also, some advanced users have their corporate information officially certified by international certification companies such as SGS/TUV/BV.
4. Look for the company's website and review it.
A company's website is a huge representation of its values, services, and products. In China especially, it is quite expensive for most manufacturers to build a qualified e-commerce website for their businesses. Since most small businesses don't have the money to build and maintain massive websites, most of them usually settle for ones with bed user experience or none at all. A company worth doing business with would have a website with a good user experience and interface. You can check out the Hiosen website for an example of a well-designed website.
Large manufacturing companies such as Caterpillar and others have large websites with incredible user experience to feature their products and enhance customer purchases.
5. Check Alibaba's Supplier Reports
For additional insight into the approved suppliers' list in China, the Alibaba Supplier Report is a good place to start. This report is limited to only the suppliers that sell on Alibaba.
6. Ask for a Video Verification
Video verification is one of the reliable ways of making sure that your supplier is indeed a manufacturer and does have a factory that manufactures mini excavators. Multiple video calls are a good way to ensure that you are not getting duped. The team at Hiosen is always ready to provide video verification of its facilities to its customers.
7. Ask a Chinese Resident for Help
Nothing beats having a relative, friend, or business associate in China that can help review the information provided by the seller and perhaps even handle everything from negotiating prices to arranging for transportation.
8. Check online stores for customer validation
If a seller is available on any of the big e-commerce websites like Alibaba and Made-in-china, then a quick review of their customer reviews will give you a great idea of how people like their services, and whether you should do business with them.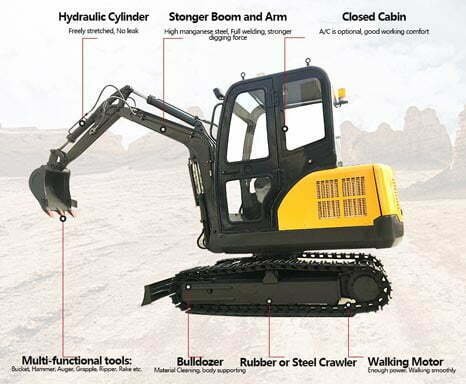 What to look for in a mini excavator
If you are a first-time buyer of mini excavators, or perhaps, new to the mini excavator market in China, it might be a little difficult to figure out what to look for high-quality mini diggers. It can be a problem trying to judge the quality of a mini excavator from its appearance alone.
Here is a list of some of the things to look out for when shopping for a new excavator:
Hydraulic Pump
Hydraulic Cylinder
Support Shaft
Bulldozing Board
Boom
Chassis Design
Support Column
Hydraulic Pump
Any mini excavator you are buying should come equipped with a cast iron pump as this can resist the strong vibrations from the engine and is a better device for power conversion. Cast aluminum pumps have low shock resistance and poor power conversion. This means Cast aluminum pumps don't last as long as cast iron pumps.
Hydraulic Oil Cylinder
Ensure that your excavator comes with high-quality, heavy-duty, and pressure-resistant hydraulic cylinders that have undergone high-precision quenching for better pressure resistance under full load. Standard hydraulic cylinders do not undergo the quenching process and they, therefore, deform easily.
Support Shaft
The support shaft on your machine should also have undergone the quenching process. These types of shafts do not bend easily. Ordinary shafts are usually thicker and non-concentric. Ordinary shafts bend easily as they do not undergo quenching.
Bulldozing Board
You should choose mini earth excavators with 90-degree bulldozing boards. 90-degree boards are designed to push the soil outwards vertically and therefore have better soil support. The generic 45-degree bulldozing boards have low stability and may disrupt your bulldozing operation. Cat has a great article on bulldozers and graders.
Boom
This one is simple! Only get machines with reinforced booms as they do not break easily. You get a better machine if its boom has undergone reinforcing rib treatment, and is designed for shaft strength.
Chassis Design
In terms of chassis design, excavators with additional tie rod design ensure that the track closely fits the wheels and has enhanced driving force.
Support Column
Ensure that you only buy a mini excavator that features a support column to ensure the safety of the driver and anyone working around the machine.
The mini excavators and other construction machines designed and manufactured by Hiosen come with all of the features described above and more. Hiosen mini excavators come with several options for transportation and packaging.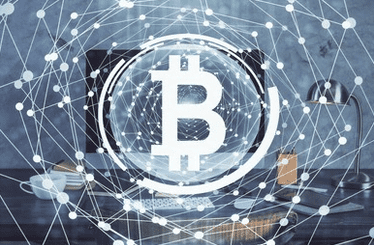 Processing Payment for Your Mini Excavator
The payment for items purchased is another aspect of buying mini excavators that many people struggle with. This is especially true if you are buying from China for the first time.
Here are some of the factors to consider during payment:
Most Chinese manufacturers rarely accept Open Account (OA) arrangements as a valid means of payment. However, a Letter of Credit (LC) is a more suitable form of payment for most Chinese manufacturers.
It is much better to use Telegraphic Transfers (TT) as a means of payment in China. You also have the option of choosing a 30% advance payment and having the remaining paid with the bill of lading. Hiosen uses the TT payment method for its transactions.
If your goal is to nurture a long-term business relationship, you should begin with a small order first to see if you like the product and if the process works for you.
If you have other Chinese partners or businesses that you regularly transact with, you can talk with them to help you review the mini excavator manufacturer that you are about to do business with.
Other factors to consider
By choosing to buy your mini excavators from China, you need to consider the ease with which they can be repaired and sold locally. This is because most small mini excavator manufacturers do not have any overseas after-sales service points that their customers can easily go to. You need to discuss the possibility of returning the mini excavators for repairs or having the company send over an engineer along with parts necessary for the repairs. The usual warranty period given by most manufacturers in China is one year. Companies like Hiosen, for instance, provide 18 months warranty on every machine bought.
Some of the other factors to consider include:
You should buy accessories from known brands or the manufacturer of the mini excavator that you are buying for high-level compatibility.
Ensure that you maintain your excavator daily or after every use to avoid premature machine wear.
Perform every maintenance according to the maintenance manual provided by the manufacturer.
If you intend to buy only a few excavators from China, you should get a supplier that can provide you with extensive support throughout the purchasing process and after-sales.
The transportation time can vary from one port to another, and depending on the number of mini excavators you ordered.

The Process of Buying Mini Excavators From China –A short Guide
Even with all of the information provided in this article, purchasing any product in bulk from a foreign country can still be quite confusing for most small businesses. So, we curated a short guide on things you should know when buying goods from China.
There are five (5) major points to note when buying anything in bulk from China.
Understand your obligations and rights as an exporter
Understand the product you want to buy
Find the right supplier
Negotiate payment and pick a suitable payment method
Confirm the quality of the product you are buying
Understand your obligations and rights as an exporter
By choosing to buy any product in bulk from another country, you essentially become an importer. This is important because depending on the country you are importing to, several rules and legislation guide the importation process. This is why you must learn more about the laws surrounding importation in your country and get the appropriate licenses.
Understand the product you want to buy
This part of the process is essential to the success of your business and your relationship with the supplier. The early parts of this article illustrate how to find the right mini excavator to buy and the right supplier. Plus, sites like Alibaba, Global Sources, and Made-In-China are great places to find any Chinese product you require, mini excavators included.
The goal is to gather as much information about the product you intend to buy. Therefore, it is advisable to ask for a product sample for examination. For expensive products such as mini diggers and excavators, you can ask a friend or associate in China to examine the product for you.
Lastly, ensure that whatever product you are importing is legal in your country and that it satisfies all of your country's set rules and regulations.
Find the right supplier
Sites like Alibaba, Global Sources, and Made-In-China are vital to finding the right supplier. Hiosen is a reliable source of mini excavators and can be easily contacted for any relevant information.
Negotiate payment and pick a suitable payment method
When buying from China, ensure that you sort out all the nitty-gritty details early on. One such detail is payment amount and methods. Ensure that your payment methods are cleared for imports and that your supplier or manufacturer accepts them. T/T is the most common payment method used by people buying mini excavators or anything else from China.
Confirm the quality of the product you are buying
A final random inspection of the product is the most common type of quality control used by most vendors. This type of inspection gives professional inspectors enough information to make educated conclusions about the entire batch of goods. Nothing beats visiting the factory that you want to buy from and inspecting your product in person before buying.
We hope that the information in this article has been able to help you in one way or another.
You are most welcome to contact us for more information.