1. Brief Introduction
When planning to dig at compact and narrow spaces, you shouldn't miss out on Hiosen's HX20A 2-ton micro excavators. These little power machines are capable of doing tasks that large excavators cannot perform easily. Due to these benefits, our HX20A model has built an amazing reputation across the globe.
Hiosen offers this model with a high-quality engine fitted into this body. The engine of our HX20A 2-ton Excavator can be of any other wide range of mini excavator brands. We use Kubota's engine or Laidong's engine. Both of these brands are Japan and China's Top brands respectively.
The interesting feature is that this model is more efficient to perform tasks that a midi excavator can perform. If you want to know detailed information about this product, then don't worry.
We have enlisted its technical details, attachments, applications, and much more to facilitate you. For information other than this one, you can Contact Us now.
2. Technical Specification
Technical Specifications play an important role in differentiating one model from another. Based on these details, you can decide whether a model can fulfill your needs or not.
The technical specifications of the HX20A 2-ton mini excavator are listed below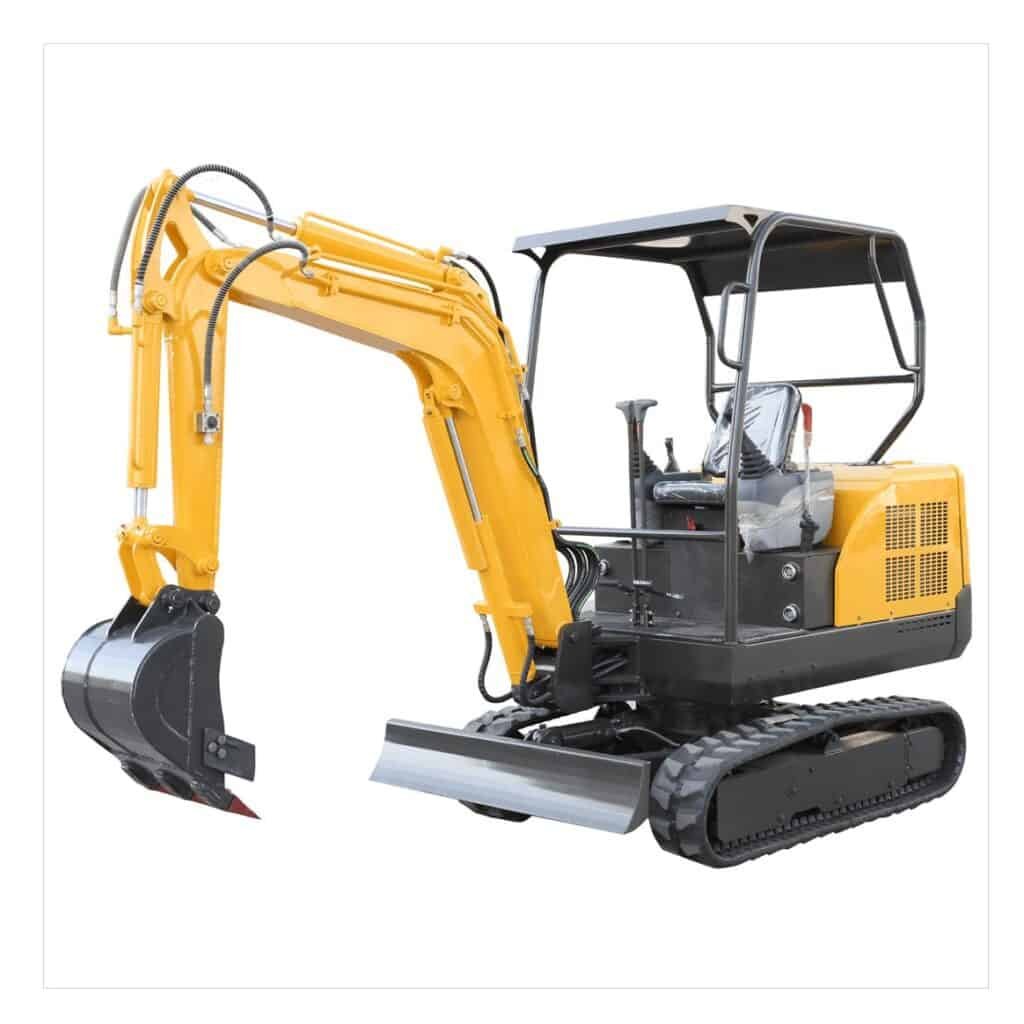 | | | |
| --- | --- | --- |
| 1 | Name | Crawler Excavator |
| 2 | Model | HX20A |
| 3 | Bucket capacity | 0.06m³ |
| 4 | Engine | Laidong/Changchai/Yanmar/Kubota |
| 5 | Pump | 18 Mpa, 2500rpm |
| 6 | Walking speed | 2.5 Km/h |
| 7 | Rotation speed | 10r/min |
| 8 | Total length | 3600 mm |
| 9 | Total width | 1060 mm |
| 10 | Total height | 2200 mm |
| 11 | Turning radius | 1200 mm |
| 12 | Crawler length | 1900 mm |
| 13 | Crawler width | 230 mm |
| 14 | Body width | 1060 mm |
| 15 | Maximum digging height | 3365 mm |
| 16 | Maximum dumping height | 2385 mm |
| 17 | Maximum digging depth | 2050 mm |
| 18 | Maximum digging radius | 3860 mm |
| 19 | Swing angle | 360° |
| 20 | Climbing gradient | 30° |
| 21 | Bulldozer maximum digging depth | 275 mm |
| 22 | Bulldozer maximum raising height | 230 mm |
3. Applications:
Before investing in anything, it is a must to know about its applications. Without an awareness of applications, it's hard to realize where your machinery can be useful.
To help our customers invest in the right machinery, we have enlisted some popular applications of our 2-ton micro excavators:
Minor engineering constructions
Farmland construction
Gardening
Urban construction projects
Trenching
Digging
Lifting
Leveling
Dozing
Crushing
When searching for a 2-ton compact excavator, don't forget to check the HX20A model at Hiosen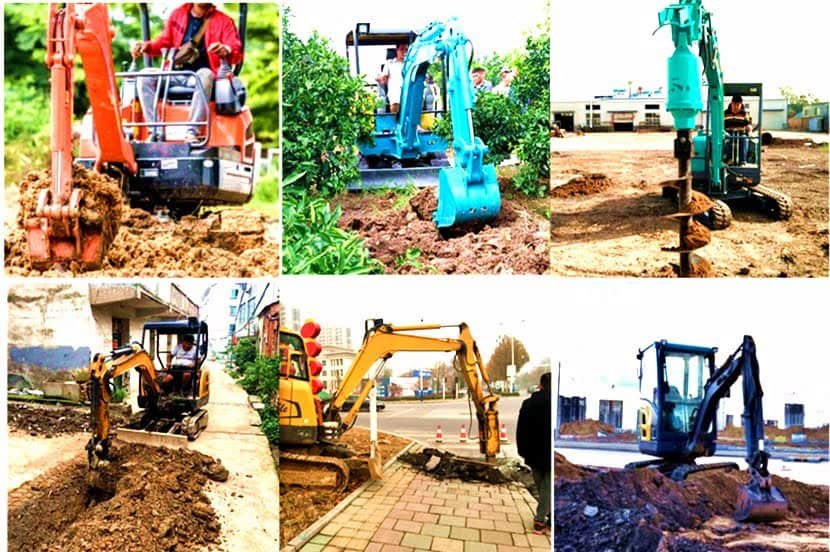 4. Attached Tools
Attachments are the essential tools that can be equipped with our HX20 A mini excavator. If you want to perform several tasks, you can change attachments through a quick coupler.
Each attachment functions differently. Some attachments of our models are listed below:
Gripper
Raker
Ripper
Auger Drill
Thumb
Hydraulic Hammer
Quick Hitch.
Buckets (Several Sizes and Types)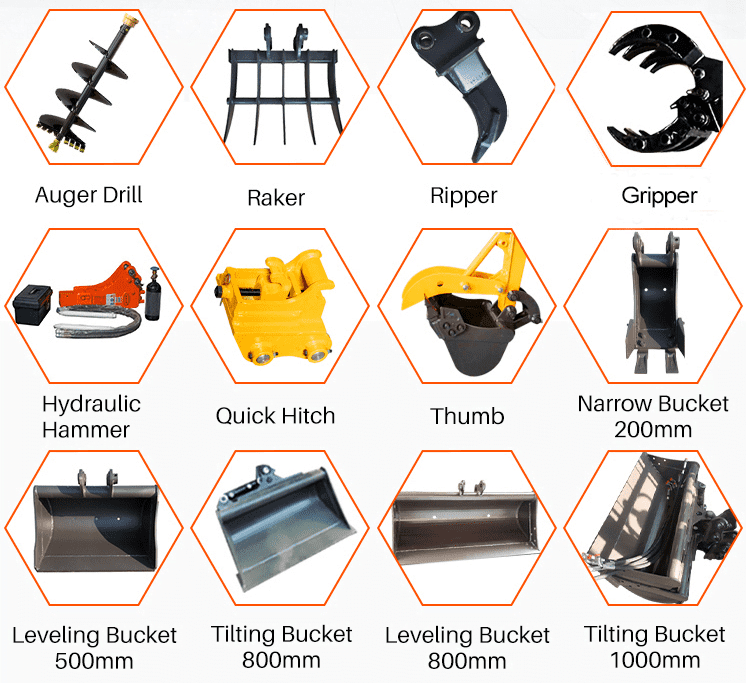 5. How To Get 2-Ton Mini Excavator Delivered At Your Doorstep?
Once you are done searching for the best mini excavator in china for your projects, now you must want to purchase it. Due to lack of guidance, people cannot order and then get it delivered to their doorstep.
There are some rules to working with Hiosen manufacturers. You have to understand how our services work at this point.
You have to research your requirements based on task type as well as a job site. you need to share your requirements with us that we discuss with our professional engineers.
Once they finalize, we can also go for customization of your mini excavators depending on your settings.
After you sign the contract, we start production of your 2-ton excavator. After the production is done, we test the product to ensure there is no fault with the product.
After all this process, we start packaging of product into high-quality and standard wooden boxes to help you protect against spam fraud.
Then we deliver it to you by sea, plane, or any other mode of transport.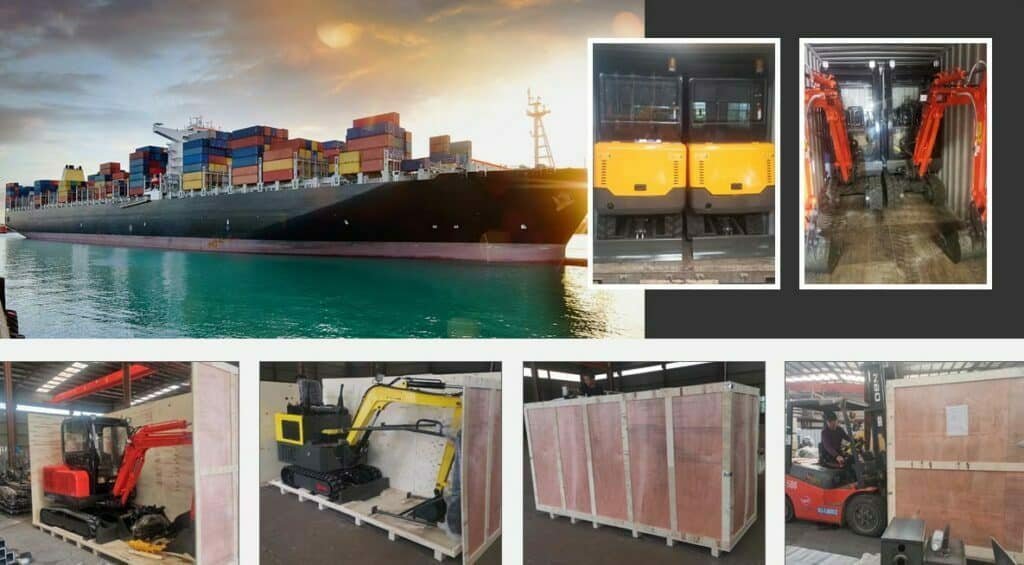 6. Top Five Maintenance Issues Of 2-Ton Mini Excavator
Just like large excavators, the 2-ton mini excavators also require maintenance. It is important to maintain them if you want a long-term advantage from them. Not being able to maintain mini excavators can result in a lack of productiveness on the job site.
Moreover, it will also increase your O&O costs. However, most people face major maintenance issues while maintaining their mini excavators. Some of those issues are listed below to help you protect from spam, fraud, and abuse:
Track tension is the most important thing that a large number of landscapers ignore. Most tracks are made of rubber materials that can be worn easily. It can also affect the acceleration of your mini excavator.
To check track sag measurement, you should check the operator's manual. This helps to ensure that the track tension is working all fine. Note that a loose track, as well as a tight track, can result in unnecessary damage to your used mini excavators.
Greasing the mini excavator is another issue that is faced by most operators. According to experts, you should be able to grease your mini excavator on daily basis. Moreover, you should check the user manual to know about the grade, quantity, and points of grease in your mini excavator.
Note that over greasing and under greasing can also be problematic for your mini excavator.
Most operators forget to service the propel drive gearbox. It plays a vital role in the performance of your mini excavator. Due to mud on these parts, operators neglect its servicing. However, you should ensure oiling the gearboxes at an interval of 1000 hours. Note that gearboxes are small but the most important part of your mini excavators.
Hydraulic oil needs to be changed after a particular time period. It is because it looks clean most of the time but it may not be productive enough to run your mini excavator. With the passage of time, the hydraulic oil doesn't keep its contaminant's holding capacity and viscosity.
Not changing hydraulic oil can result in the failure of your mini excavator. Therefore, you should change it on regular basis according to the quality of those services. Its important function is to absorb environmental moisture.
The fifth maintenance issue is to keep the maintenance record of your used mini excavator. It is considered the most time-consuming task of all the other tasks.
Keeping the record can help you evaluate the cost & service life of your 2-ton mini excavator. Moreover, you will be able to make informed and accurate decisions about your cheapest mini equipment.