A mini excavator is an essential tool for contractors working in tight locations, difficult-to-access job sites, or urban surroundings. Mini excavators come in a variety of sizes and features, and manufacturers have increased their feature offerings for these smaller machines to keep operators more comfortable and productive.
Deploying a mini digger with the proper configuration and options will result in increased performance and equipment utilization, but with so many brands and models on the market, what functions do you need to get the most use for your work?
Fortunately, this guide will help you to choose a mini excavator that suits your specific job requirements. Match your mini digger to your job requirements and the construction site itself, ensuring that you get all the functional support for your task. Meanwhile, it is better to choose a reliable mini excavator manufacturer that offers high-quality equipment and provides you with any parts you need for repairs and improvements.
Here are some great tips for you to find the best mini excavator for your business.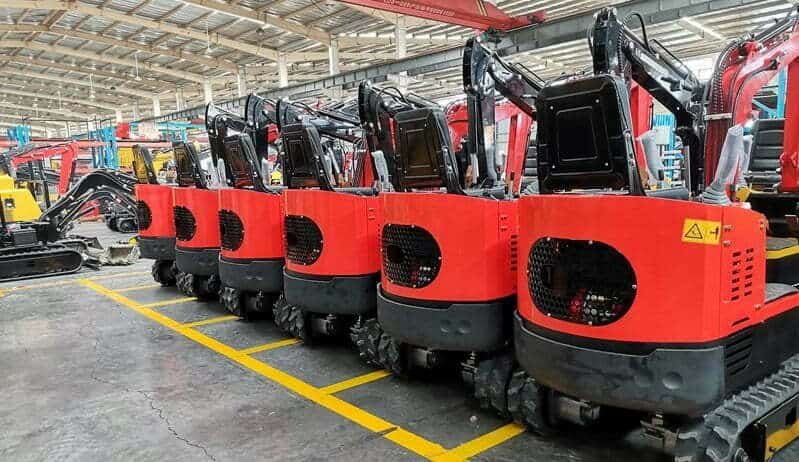 Specification of Mini Excavator
The first stage in selecting a mini excavator is to assess the work or jobs that it will be performing – both in terms of size and functions, as well as transportation issues.
Determine the amount of material you'll need to move and how quickly you'll need to move it, according to experts. The small excavator's capability may then be matched to these work details.
Consider whether your company will develop into larger, more sophisticated operations when determining the dig depth and lift capacity for your construction project. Buying a small excavator able to dig or lift 20% or more than what you do on a daily basis will help your company to expand without having to replace equipment as frequently.
Thanks to their small size, light working weight, and flexible tail swing, mini excavators have an advantage in urban job sites, as well as other workplaces that are tight, have a low ceiling height, or are difficult to reach. For the contractor, it's critical to find a balance between size and navigation requirements and the ability to do the task at hand.
Hydraulics and Engine Size of Mini Excavator
When looking for the best small excavator for your needs, consider your ultimate goal: do you want the most powerful excavator, the most fuel-efficient excavator, or a mix of the two? You should be aware that increased engine horsepower does not always imply increased hydraulic horsepower. When checking engine ratings for small excavator models, it's also important to consider gross versus net horsepower.
Maintenance Costs of Mini excavator
When selecting the best mini excavator for your purposes, you must also consider maintenance expenses. Larger machines possess larger engines, which need more oil and stronger filters, as well as a more complicated hydraulic system that needs more oil. You'll want to purchase a mini digger that allows you to easily access the fuel filter, oil filter, fuel/water separator, hydraulic filter, and air filter.
Mini Excavator with an Enclosed Cab is Better
A mini digger with an enclosed cab provides a number of advantages for both the operator and the company. Although a mini excavator with an enclosed cab has a greater running cost, there are advantages for the operator's operation and safety that will benefit your long-term operations.
Different from large excavators, small excavators are more sophisticated construction machines. Mini diggers have high requirements for construction tasks such as installation, excavation, and demolition; and the operator is an important factor in successfully completing these tasks. Therefore, when choosing a mini excavator, details such as the service life of the cab, the comfort of the seat, and the flexibility of the operating handle need to be considered.
Today's small excavators include conveniences similar to those seen in automobiles, coupled with increased operator comfort. An enclosed cab configuration allows the operator the most control over their surroundings, including air conditioning, heating, and noise protection, to counteract tiredness. There is also a significant safety benefit: the operator is protected from flying debris. Theft and vandalism are also deterred by having a covered cab. Mini excavators with an enclosed cab may work for longer periods of time throughout the year, which might offset the higher expense.
It's also important for you to choose an ergonomic seat and control device, which can greatly improve the comfort of the operator. Choose a cab with enough space, which can easily use all the controls and functions of the excavator. With an adjustable seat that can move laterally, your operators can work comfortably and provide enough flexibility to quickly adapt to different operators. The longer the operator's single use of the excavator, the more important it is to choose a small excavator with strong comfort.
Mini excavator production, transportation time, price
First of all, buyers need to formulate a budget for the purchase of mini excavators, which can help you quickly filter out the target machine range when buying. To make a reasonable budget requires buyers to comprehensively consider previous procurement experience, actual construction needs in the future, and the current market price.
Secondly, buyers need to consider the actual construction needs and take into account the manufacturer's time for production and transportation of the mini excavator, so as to avoid delays in construction periods and reduce unnecessary time costs. If the company urgently needs to purchase a new mini excavator and put it into use, buyers can only purchase from manufacturers with short production and transportation cycles.
Mini excavator manufacturer after-sales service
The manufacturer's comprehensive after-sales service can bring long-term benefits to buyers. Before purchasing a mini excavator, the buyer should check whether the merchant's after-sales service is complete. After-sales personnel often have professional knowledge, tools, and resources. Under their guidance, they can ensure the best performance of your machine. At the same time, after-sales service personnel can also provide preventive maintenance, installation, and repair suggestions based on the actual working conditions of your mini excavator.